Today's guest post was written by Jim Casada.
THE MURDER (?) OF HOL ROSE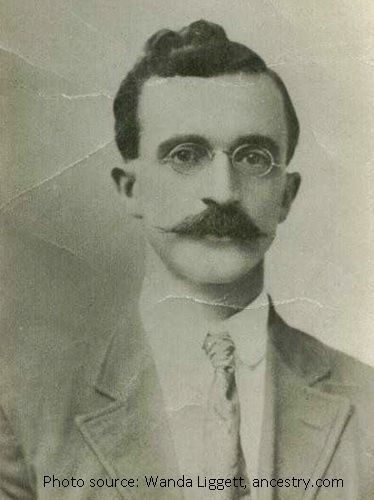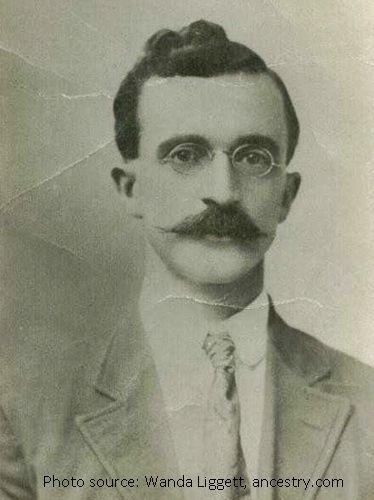 J.H. Rose
Thanks to widespread newspaper coverage on the national scene and Horace Kephart's devoting a full chapter to "The Killing of Hol Rose" in the second edition of Our Southern Highlanders, That event is unquestionably the best-known of the numerous murders which run as a sad, bloody thread through the fabric of Swain County history. Indeed, second only to the creation of the Great Smoky Mountains National Park, it is likely the most widely covered subject in all of Swain County's storied past. While Kephart's book is absolutely littered with provable factual errors and egregious stereotyping, his coverage of the Hol Rose saga, while having some omissions and questionable information, is for the most part accurate.
Kephart's use of the word "Killing" was appropriate, for there are real questions about whether Rose's death was murder or justifiable homicide. Anyone who looks at the story in detail soon realizes the precise circumstances of the affair are complex and muddled. That explains the title's question mark.
Kephart's chapter on the shooting opens with revealing commentary on his own inordinate fondness for liquor, an obvious point although one conveniently ignored by many of his defenders and students of his career (a recent biography of Kephart by George Ellison and Janet McCue does cover his problems with alcohol in some depth, although in this writer's view there are numerous issues with the nature of their coverage) or students of his career. It is also of marginal relevance to the Hol Rose story, but given the fact that roughly 40 percent of the entire coverage of Our Southern Highlanders deals with moonshining, the seven-page literary side track comes as no surprise and would seem to be what psychologists term an exercise in projection.
But when Kephart finally turns to a character sketch of Hol Rose things get interesting.  The reader meets an arrogant man with an overweening sense of self-importance, a tendency to be overbearing, and a degree of officiousness which often saw Rose stretch the limits of the law while enforcing it.
Rose, who had managed to secure a position as a federal prohibition agent after having been fired as a local deputy because of over-zealousness, was not particularly popular on the local scene. Moreover, he came from an extraordinarily tempestuous family filled with trouble and troublemakers. He was a nephew of legendary bootlegger, fiddler, and outdoorsman Quill Rose, who was about as prickly a character as you are ever likely to encounter in the annals of Smokies lore. He had definitely killed one man, and notches on a favorite pistol suggested there were others. At one point not long after the conclusion of the Civil War he single-handedly stood off a full dozen raiders who rode up to his Eagle Creek home, telling them in no uncertain terms, with a six-shooter in each hand, that a bunch of men would die if they tried to take him prisoner or initiated any action.
On another occasion at a sort of community picnic or potluck supper (he was always welcome because of his fiddling skills) Quill became infuriated with the treatment of his wife, Vicey, who was part Cherokee and almost certainly had some African-American blood as well. She was being shunned by the women in attendance and they were making audible comments about her as well. The food for the gathering was assembled on trestle tables next to a two-story house. After observing the disdain and ill treatment of his wife for a time, Quill climbed to the porch of the second story and proceeded to urinate all over the food on the tables. He then linked his arm with Aunt Vicey's and left the gathering. No one dared challenge him, and I think it fair to conclude that this action pretty well ended the festivities.
As for Hol, many who knew and disliked the man often muttered thoughts to the effect "he's just asking for someone to kill him." There can be no question that he was a violent man from a violent clan. Rose often bragged of killing two men in Georgia, and in addition to his Uncle Quill, the extended Rose family was decidedly prone to trouble. In a telling index to the way trouble followed the Rose family, in the decade or so following the shooting of Hol, at least two and possibly three other nephews of Quill were murdered.
The immediate developments connected with the actual shooting of Hol Rose are straightforward, but circumstances underlying the exchange of gunfire are another matter entirely. Babe Burnett, who lived on upper Brush Creek (a road at the upper end of the stream near its juncture with Tabor Creek bears his name), was the man who shot Rose, and he subsequently admitted as much in court. Also, in the interest of fairness and full disclosure, at this point I should note that Babe was a distant cousin (but so is Tipper, the genius behind this blog, so don't condemn me too roundly for my kinfolk).
Burnett was known for his violent temper and reputedly had, several years earlier, shot a man and fled to Canada and then the U. S. northwest for some years before returning to his native heath.  Local residents reckoned you didn't trifle with Babe, and it was also commonly alleged that he was using a particularly fine harvest of apples from his orchard to produce brandy.
That information underlay a trip to Burnett's home in the latter part of October, 1920 by Rose and a local man who often assisted in raids on bootleggers and later became a Swain County deputy sheriff, Charlie Beck. On the fateful day they visited the remote Burnett household not once but twice. On the first occasion they accosted him and, after finding some apple pomace but no distilling apparatus, poured out the "workings" and left. That departure, without presenting any warrant or making any attempt to arrest Burnett, would prove the first of many questionable developments connected with the entire affair.
Rose and Beck then spent several hours searching for other moonshiners on Brush Creek before returning to Burnett's home. At that point, according to subsequent court testimony by Beck, he stated that he "did not see who fired the shot, nor did he know who did the shooting that resulted in the death of Rose." He did testify that he came from a nearby haystack near a barn and that he and Rose had seen Burnett running towards the barn.
Rose was killed by a blast from a shotgun, and since Burnett subsequently admitted firing the shot, that much isn't really in dispute. Both Babe Burnett and his wife testified, under oath, that Rose fired first. Defense attorneys also zeroed in on a claim that initially Babe ran from the two men and that it was only after he was hit in the leg that he fired the shot which killed Hol Rose. What is passing strange is that Beck testified that he emptied his handgun firing at a fleeing Burnett while Rose, in his death throes, shot into the air. Beck believed he had missed with all his shots, which seems likely given the range at which he was firing with a pistol, and if Rose's shots indeed went straight up as he fell dying, they obviously did no damage. It is difficult to escape the conclusion that Rose likely shot without provocation and only then did Burnett turn on him and level the deadly shotgun blast.
Not until months later would it become general knowledge that Burnett received a wound to the leg in the exchange of gunfire, yet another point which suggests it is possible if not likely that Rose shot first and Burnett's shotgun blast only came as a response. This matter was never made completely clear, but while under oath and facing questioning by Burnett's lawyers, Beck did acknowledge that if there was a warrant for Burnett's arrest he never saw it and Rose never presented it.
All that courtroom drama and uncertainty lay months in the future as twilight gave way to night on October 25, 1920. What was abundantly manifest was that Rose was dead, Burnett had fled, and the full weight of federal authority was about to descend on a remote section of Swain County in a fashion reminiscent of the modern-day saga of Eric Rudolph.
The immediate aftermath of the death of Hol Rose involved considerable chaos and confusion. Kephart's coverage in Our Southern Highlanders indicates that Charlie Beck was unable to convince anyone living nearby to let him use a telephone to call authorities in Bryson City. That portion of his description of the incident is highly suspect since there was almost certainly no telephone service to Brush Creek on anywhere in the immediate surrounding area in the early 1920s.
Kephart is definitely inaccurate in stating that Beck had to walk many miles to get assistance. Beck had driven his personal vehicle to the scene, and records in the papers settling Rose's estate include an invoice for vehicular services clearly indicating such was the case. Why Kephart chose to provide erroneous information will always be a mystery, especially given that the real situation required no sensationalism in order to attract readers. In and of themselves, without any embellishment, "Just the facts ma'm" were abundantly gruesome.
Kephart was correct in suggesting "everybody wanted to keep out of the mess," but that desire likely did not stem from a desire "to keep from being a witness in court." Instead, Rose was widely disliked in the area both because of the position he held as an enforcer of Prohibition and thanks to his overbearing personality. That would become obvious in the weeks and months to come.
Meanwhile, an intense manhunt for Burnett got under way. Soon a reward for Burnett's capture was offered, although interestingly federal authorities were unable to convince anyone in Swain County to contribute to the fund.
The outsiders who headed the search had little success. Blood hounds brought in for tracking lost the trail (it later developed that turpentine threw them off the trail) and Burnett received assistance not only from his wife but from folks in nearby Macon County, where it would eventually be learned he had fled in the immediate aftermath of the affray.
It was only months later that Burnett surrendered to authorities. In addition to those factors, all sorts of other complexities were involved which may have delayed his surrender. Rumors, soon proven untrue, claimed he had been captured by authorities at the other end of the country in Spokane, Washington. Also, those heading the search were concerned that Burnett could not be tried in a federal court but rather a state one. They had come to realize, over the course of the intervening weeks following the shootout, that a state court was far more likely to be sympathetic to and lenient with Burnett.
It was not until mid-May of 1921, some six months after the shooting, that Burnett surrendered. He turned himself into the sheriff of Swain County and told authorities that during the entire period he had not been "out of Swain, Graham and Macon counties" and that "during the greater part of the time he had been hiding near his home." Burnett immediately assembled an impressive defense team of four attorneys, with highly respected local lawyer Thurman Leatherwood and Felix E. Alley, a man who would later become a noted judge as well as writing an important book, Rambling Thoughts and the Musings of a Mountaineer, being among those employed to defend him.
They announced that Burnett intended to plead self-defense and indicated to the press that "eye witnesses to the shooting would not substantiate allegations that Officer Rose was killed without provocation." Clearly they had interviewed Charlie Beck and realized that once he was on the stand his testimony would leave ample doubt in the minds of jurors about how events unfolded at the scene.
Meanwhile, even as his defense sought release of Burnett under bond, another development connected to him and the man he shot became the talk of Swain County. Indeed, it furnished the sort of raw material we today associate with tabloids normally located quite close to grocery store check-out counters.  In a late May ceremony in Macon County, mere weeks after the surrender of Babe Burnett, his son, Verlin, married Ima Rose, the daughter of Hol Rose.
Upon getting word of his father's troubles Verlin had traveled to his mountain home from where he had been working out West. Apparently he spent some time staying at the Cooper House, a noted boarding establishment in Bryson City. Teenaged Ima Rose, one of Hol's daughters, was employed there. The couple fell in love and soon eloped despite threats from the Rose family directed at Verlin Burnett. The marriage did not last (by the time of the 1930 census Ima was listed as single and was back home living with her mother and siblings). Still, it provided a titillating backdrop to the upcoming trial, which, as observers predicted, proved to be the first in an unfolding and complicated series of legal developments in which Burnett was first convicted of murder and then, on appeal, found innocent.
Burnett's initial trial was in Swain County Superior Court. That was, according to District Attorney Stonewall Jackson Durham, because "Burnett could not be tried for murder in the federal court, there being no provision for punishment of a citizen guilty of killing a federal officer." Then too, adding to the tangled maze of matters, on the civil docket side in the same term of Superior Court, there was a $10,000 suit against Burnett by the administrator of the Hol Rose estate.
The murder trial began on July 25, 1921, with the prosecution facing problems in the testimony of its key witness, Charlie Beck, from the outset. Under oath Beck admitted he did not actually see who shot Rose and, perhaps more telling, testified that he had no knowledge of a warrant to search Burnett's property or for his arrest. Defense counsel zeroed in on this point. They noted that if Burnett did indeed fire the killing shot it was in self-defense with Rose and Beck having entered his property illegally, Rose carrying a loaded pistol in his hand, and Rose firing the first shot without provocation or justification.
When Burnett took the stand he admitted to having killed Rose, but said he did so only after Rose had shot him in the leg without any warning, presentation of a warrant, or calling out that he was there to arrest him. "I fired to save my life," Burnett said, adding that he had heard what was common local knowledge; namely, that Rose "was a dangerous man."  It also emerged that Burnett had previously been convicted of illegal distilling and had been charged multiple times for affray and illegally carrying a weapon. In retrospect, it is difficult to escape the conclusion that Burnett too merited being described as "a dangerous man" and that both individuals had somewhat unsavory reputations.
After considerable deliberation, the jury found Burnett guilty of second degree murder. Judge Thad Bryson, a Bryson City resident, sentenced him to 18 years in the state prison in Raleigh. The sentence was immediately appealed, and within three weeks Burnett was out of Buncombe County jail, where he was being held, on a bond of $7,500. Interestingly, local friends joined his family in raising the bond. He also purportedly had help for locals during the months he was hiding out. Both circumstances indicate Burnett enjoyed some popularity with neighbors.
The appeal process played out over the ensuing months with the North Carolina Supreme Court granting a new trial. This second trial began in early March, 1922. It was again held in Bryson City but with a new judge and jury. Newspaper reports from the time indicate the trial drew intense local interest with crowds from all over the area flocking to the courthouse. After deliberations lasting only three hours, the jury returned a verdict of not guilty. Burnett was, at least temporarily, a free man.
Thwarted in their attempts to obtain a murder conviction and obviously frustrated with developments, federal authorities turned to the only recourse left–lesser charges. Two months later, on May 6, Burnett was convicted on one of the eight lesser charges brought against him. He initially pled not guilty to all eight counts, but at the conclusion of testimony from government witnesses and on advice from his attorneys, Burnett changed his plea to guilty on a single charge—that of illegal manufacture of whiskey. Burnett was sentenced to two years in the federal prison in Atlanta, with his incarceration to begin immediately.
Burnett did not live too long after his term in the Atlanta penitentiary. He died on June 2, 1925, at the age of 60, and is buried in the Oak Grove Baptist Church Cemetery in the Cowee area of Macon County where he fled after shooting Hol Rose. His tombstone misspells his name by adding at "e" at the end of Burnett.
Photo courtesy of Don Casada
The man he killed, Hol Rose, rests in Bryson City Cemetery a mere stone's throw from the burial site of Horace Kephart, the author who immortalized his killing. Since for the most part local residents sided with Burnett, contemporaries would have likely been displeased with Kephart's coverage of this particular event (the book came out before completion of the series of trials) as they were with other sections of the work. Today, viewed from the perspective of almost a century, the whole affair emerges from the mists of the past as a particularly sordid and sensational event involving two tempestuous individuals which ended in tragedy.
—-
I hope you enjoyed Jim's post about Hol Rose and Babe Burnett as much as I did. What a dramatic story!
This Thursday, July 18, at 1:00 p.m. in the conference room of United Community Bank in Bryson City, NC (145 Slope Street), Friends of the Bryson City Cemetery (FBCC) will have a program to discuss the life and death of U.S. Prohibition Agent James Holland "Hol" Rose, who is buried in the Bryson City Cemetery.
Tipper
Subscribe for FREE and get a daily dose of Appalachia in your inbox