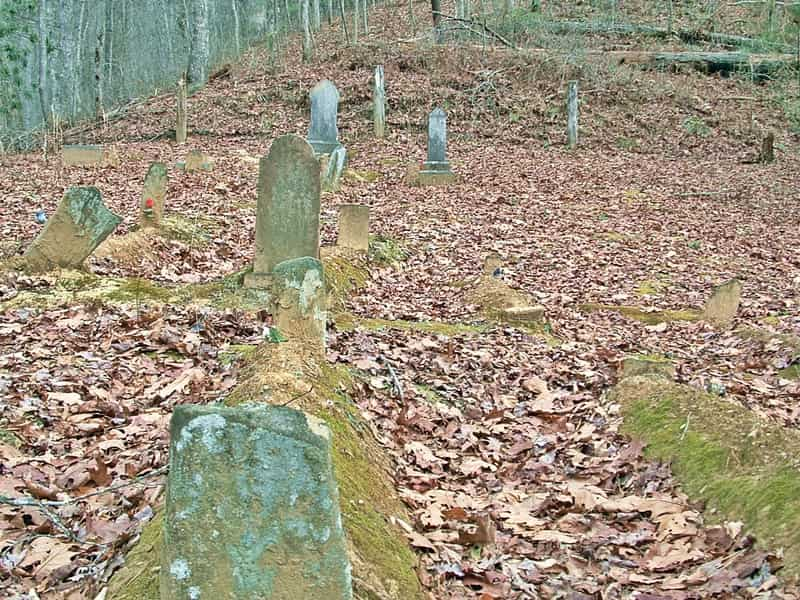 Some folks think graveyards are peaceful and serene and others think they're creepy.
Many graveyards in Appalachia have spectacular views. The ones scattered throughout the Smoky Mountain National Park come to mind. Old Martins Creek Cemetery and New Martins Creek Cemetery both have nice views.
When I was very young I went to a cemetery with Pap's mother. I don't remember where it was, but it seems like we went to clean off graves and replace old flowers.
A couple of cousins were along for the trip and in the midst of our playing a tombstone fell over on me. I still have a tiny triangular shaped scar on my knee from the event.
I took the injury very seriously 🙂 I refused to walk on that leg for a quite a while.
I went around hopping on one foot. Everyone kept telling me it wouldn't hurt to walk on it, and that in fact walking would help me get better.
I discounted the advise from all the adults, but when an older cousin promised me one of Big Grandma's RC Cola's I decided I ought to at least test out my leg. By the time I walked to the other side of the room he'd already reneged on the deal.
In Appalachia we have a tendency to place extra emphasis on things we say. We often note someone or something is graveyard dead. As if graveyard dead is worse than just dead.
I never had to work graveyard shift, but I don't think I would like it. The Deer Hunter worked graveyard back in the day when we were dating.
If you kill a rabbit in a graveyard its foot isn't just lucky its extra lucky 🙂 I guess not for the rabbit.
We were always taught it was disrespectful to step on a grave. To this day I'll almost fall to keep from stepping on a grave.
Worms dug in the graveyard are supposed to catch more fish.
Walking through a graveyard at night is reported to be bad luck, so I wonder if walking through one during the day brings good luck?
Tipper
Subscribe for FREE and get a daily dose of Appalachia in your inbox