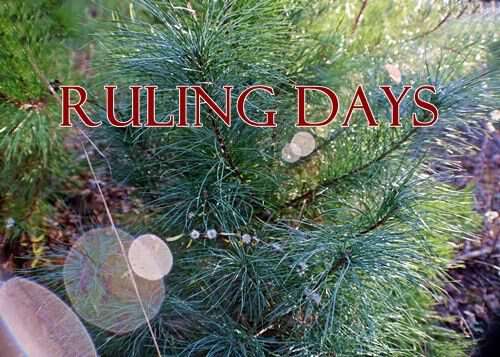 "The twelve days beginning on Christmas day, each one of which is said to govern the weather for one month of the following year. 1905 Miles Spirit of Mts 107 But he and Arth do not disagree about certain weather signs their mother had taught them when they were "shirt-tail boys," signs about Groundhog Day, for example, and the Ruling Days, the twelve days from the twenty-fifth of December to Old Christmas, each of which rules the weather of a month of the coming year."
Dictionary of Smoky Mountain English
—-
Over the years I've written about ruling days a few times. Here's some comments from past posts.
Kimberly: I have heard of the tradition of the the 12 days indicating what the weather will be for each upcoming month, but I have not heard it called "Ruling Days." I always mean to track the weather and see if it works out that way in the upcoming year, but I always forget!
Wanda in NoAla: My Grandma used to keep a journal of the weather on the twelve days of Christmas; never heard it called 'Ruling Days'. Very interesting.
Barbara Gantt: My Dads side of the family talked about Ruling Days. I remember the older women discussing it.
Susie Swanson: I remember The Ruling Days Tipper. My mom and dad and the older generation always went by them.
Ethelene Dyer Jones: My daddy who was a fair "weather predictor" of our upcoming weather kept a record of the "Ruling Days" of weather as it pertained to the coming months. It was interesting, as I remember, to see whether the weather proved this long-standing predictor. Whether this gives us clues, the method is, nonetheless, interesting.
Lonnie Dockery: Mother would draw twelve circles on a sheet of paper and write in the weather for each day. I don't remember ever checking to see if it worked later in the year, but I'm sure she did.
I never knew about ruling days until I started Blind Pig and The Acorn. I've always wanted to keep track of the weather for the 12 days and then compare it at year end. Hopefully writing about it, will hold me accountable and I'll actually do it this year. I'll share the weather conditions with you at the end of each post so I'll have a record.
Tipper
*Ruling day 1: Low 26 High 48 No precipitation
Subscribe for FREE and get a daily dose of Appalachia in your inbox