Today's guest poem was written by Ron Banks.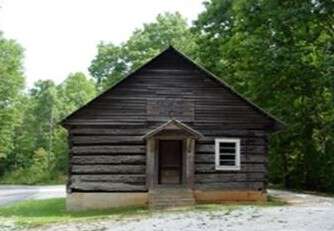 Ridgeway Baptist
Church Ca. 1860's
Where I Am From written by Ron Banks
I am from front
porch swings and a hand hewn log church.
I am from the
house at the end of the road, noisy katydids at night, soft handmade quilts and
the smell of hot biscuits in the morning.
I am from the
apple tree the muscadine and fertile soil.
I am from summer
revivals, hard work and my parents, Simon and Amy.
I am from the mind
your own business and not others.
From, if you stand
on your head your liver will turn over and kill you and chewing tobacco will
stunt your growth.
I am from hell
fire and damnation preaching, altar calls and shouting the house down.
I'm from Gilmer
County, Scotland, Ireland, England and France. Cornbread and fried pork chops.
From a Confederate
soldier, wounded and captured. I am from
the moonshine runner and the circuit preacher.
I am from the
family Bible, hickory switches, daddy's pistol and grandpa's straight razor. I
am from Appalachia.
——————
I hope you enjoyed Ron's poem as much as I did! The line about standing on your head made me think of all the sayings I heard as a kid like "if you swallow chewing gum it stays in your stomach for 7 years."
Tipper