Craftsmanship and Cultivation of Beauty – Lingering Legacies of Early Mountaineers
by Don Casada July, 2010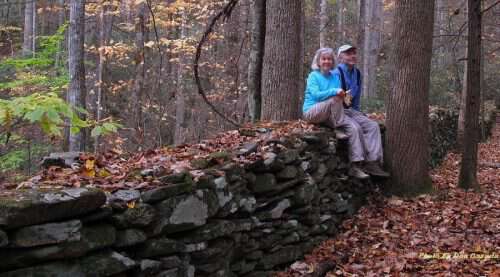 Susan and Don Casada perched on a rock wall near the Boogerman Trail area in Cataloochee Valley, NC.
The wanderer through some of the back country of the Great Smoky Mountains National Park will encounter – in areas where people once lived but haven't for some time – certain common vestiges of the former occupants.  Rock walls and chimneys are the two most readily recognized "made by hand" indications.  The old rock walls in the Boogerman Trail area of Cataloochee and the Old Settlers Trail between Greenbrier and Cosby are reflections of the care that the wall builders had not only for the wall itself, but for the land as a whole.  These walls, largely unchanged since they were constructed in the pre-Park era – and with no repairs since – aren't just piles of rocks thrown together casually.  They were stacked with care to not only clear the areas for cultivation and other service but to make functional things of beauty.  The many chimneys still standing upright – even with the rest of the home either burned, decayed, or hauled away – are likewise a testimony to both craftsmanship and an intent to build something that would last well beyond its builder's years.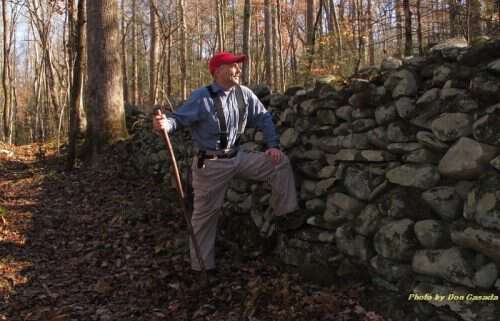 An impressive rock wall along the Old Settlers Trail, between Cosby and Greenbrier, TN.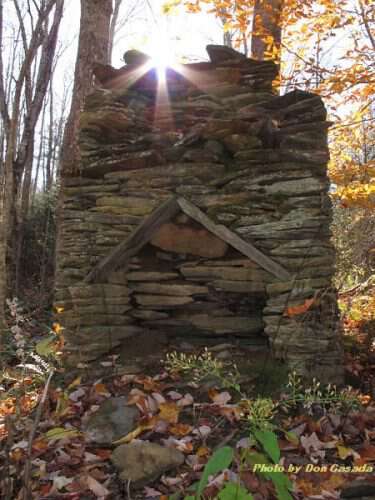 Chimney along the Old Settlers Trail, between Cosby and Greenbrier, TN.

Particularly in the early spring, one may also notice non-native shrubs and flowers planted by early settlers that have managed to survive – in spite of the now complete tree cover and lack of attention for three-fourths of a century.  Boxwoods, yellowbells (forsythia), and daffodils are the three most common such plants.  None of them are native to North America, and all trace their American history to early colonial days.  Boxwoods, which are tolerant of moderately shady conditions, were often used on either side of a path leading to the front of a home.  On the other hand, both yellowbells and daffodils prefer plenty of sunlight.  Yet they survive in the mountains because they bloom and put out their foliage early enough in the spring to harvest sufficient energy from the sun before tree leaves obscure their heavenward view.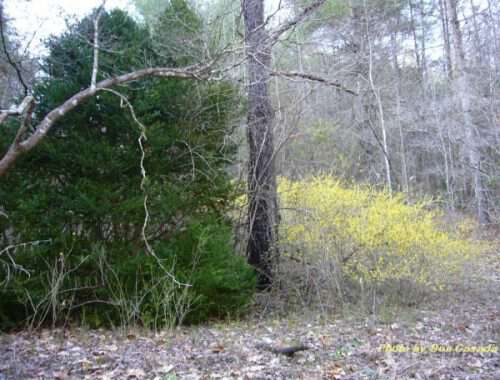 Boxwood and yellowbells, late March at an old homesite on Indian Creek, NC.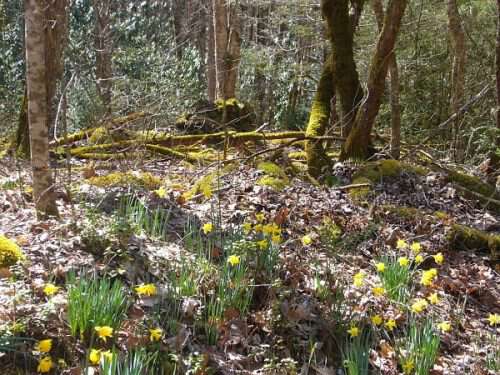 Late March daffodils on Noland Creek, NC.

There are other non-native flowers chosen to decorate the landscape by early settlers that bloom in the late spring or early summer, such as the occasional rose and day lilies.  These aren't nearly as common as they are around both old and new homesteads outside of the Park, but have managed to persist in a few locations – such as in somewhat marshy areas around old fields where the second-growth forest has not yet fully, to use a mountain expression, "taken holt."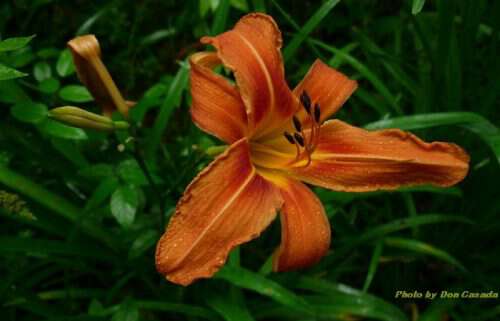 Early June day lily in the Possum Hollow area, near Proctor and Hazel Creek, NC.

Early mountain settlers led lives that involved serious struggles just to make do. One could offer an argument that the rock walls and chimneys are essentially functional in nature, and that the craftsmanship and care that accompanied their construction served a practical purpose in those struggles. But the fact that they took time to cultivate things of frivolous beauty – that is, if beauty could ever be expressed as frivolity – is another matter altogether, and a very telling one.
Popularized writings of the early 1900s virtually ignored these virtues of craftsmanship and appreciation of beauty that clearly prevailed in the lives of many living in the Southern Appalachians.  Perhaps that is because those attributes, unlike the stereotypes painted of backward and moonshine-centric lives, weren't marketable.  Two cases in point are Our Southern Highlandersby Horace Kephart and The Carolina Mountains by Margaret Morley.  It might be noted here that the view of marketability being a principal factor in the misleading characterizations is neither original nor new. Judge Felix Alley, in his Random Thoughts and Musings of a Mountaineer, published in 1941, took Kephart and – as he referred to her – "Miss Margaret Morley, of Boston" to task, observing that they "write to be interesting and not to tell the truth; their primary object, with respect to what they say about our mountaineers being, to write books that would sell in the North."
Judge Alley wielded, to employ a Biblical metaphor that I trust would meet with his approval, a razor-sharp two-edged sword with which he divided asunder. (1)
But we are indeed fortunate that our forebears wrote their own stories that directly contradict Kephart and Morley – preserved not in the pages of books sold from shelves in chic urban settings, but in rock-solid and living, blooming testimonies scattered throughout these Great Smoky Mountains even today.
An anecdote
In mid-May of this year (2010), after finishing supper and cleaning the dishes dirtied by myself and my 100 year-old father, Commodore Casada, I left the house, drove from Bryson City out the "Road to Nowhere" and parked adjacent to the bridge over Noland Creek, with the intent of walking up the trail – maybe as far as Mill Creek and back before dark.
Dusk was a-coming, it was overcast, and I wasn't carrying a flashlight or headlamp like I do when taking all-day hikes. While I wanted to just enjoy the surroundings on a pleasant spring evening, a bit of light exercise was also part of the plan, so I put my feet in high gear.  For me, high gear is about four miles an hour on an easy-to-walk trail like that along lower Noland Creek (the section I was on is actually a well-maintained gravel road).
I've walked this section of Noland Creek many times, stretching back to around 1960, but have been over it several dozen times in just the last few years.  However, one of the lessons I've learned from much tromping around in the Smokies is that, no matter how many times you've passed before, close attention is often rewarded by noting something of interest that you'd missed previously.  In part, that is due to changes over both seasons and years, but equally important is the fact that there is much to see that simply goes unseen.  Slowing down helps out a great deal in that regard, but the fading light and interest in exercise were overriding parts of the equation on this particular day. 
In spite of the relatively good clip at which I was walking, about a mile along the way my eye was attracted to what appeared to be a couple of bright yellow flowers about 20 yards down below the trail. It was too late in the year for daffodils at this elevation, so that thought was discarded immediately.  During the preceding couple of weeks, I'd spent considerable time looking for yellow lady slippers (with very modest success).  With the combination of distance, light, and the fact that I wasn't wearing glasses, I couldn't tell exactly what I was seeing.  But the recent searching that I'd done for the rare yellow lady slippers overrode the logic that this was not the sort of place they were likely to grow and that it was getting late in the season for them.  I just knew that what I saw was the right color and height for lady slippers.  Setting aside the thought that this area looked like prime snake territory – in fact, I recalled seeing a rattlesnake at this exact spot a few years back – I dropped down off the trail and waded through the spring's growth – only to find that it wasn't a lady slipper at all but a yellow iris.  Initially, I was quite disappointed, since the iris was not a native plant, and I really had my heart set on a yellow lady slipper.
But after a bit of reflection, my disappointment changed first to intrigue and then appreciation.  Here was a truly gorgeous flower – but one that normally doesn't fare well in shady environs and unlike the yellowbells and daffodils, doesn't come out early enough to beat most of the tree leaves.  Yet here it was, still tenaciously blooming after more than 75 years unattended.  While I took a photo with my point-and-shoot camera that evening, the lack of light and the fact that I wasn't carrying a tripod made for low quality.  So I went back a couple of days later when the light was better and grabbed a better shot.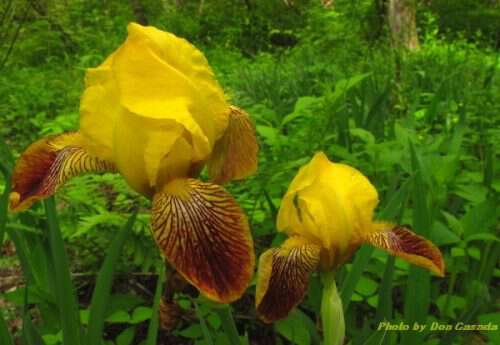 Iris in bloom in mid-May on Noland Creek
 
The area where the iris grew was far from a prime location for a mountain home. Yes, there's a weak spring and Noland Creek itself nearby, and a couple of acres of moderately flat land, but beyond that, the land quickly becomes as steep as a horse's face.  So it is a virtual certainty that the lives lived there were hardscrabble indeed. Yet the difficulties and challenges were not enough to dominate them to the point that they wouldn't take time to plant and cultivate these beautiful iris.  Perhaps the fact that the iris still survive and bloom is because the plants took on some of the characteristics of those who planted them – enduring under difficult circumstances, and doing so with a great and beautiful spirit.
The people who settled in these mountains had to be tough as nails and sharp as tacks to endure.  But all the while, their lives were much, much more than just survival, a fact borne out time and time again all throughout the hills and hollers. We are truly blessed to be their heirs.
(1) Hebrews 4:12
————————————-
I hope you enjoyed Don's thoughts as much as I did. Neat to think some of the beauty those early mountaineers shaded their lives with-can still be seen today. I think they'd be mighty proud that a few folks like Don-take the time to appreciate what they lined their lives with all those years ago.
Be sure to leave Don a comment-and I'll make sure he reads it.
Tipper