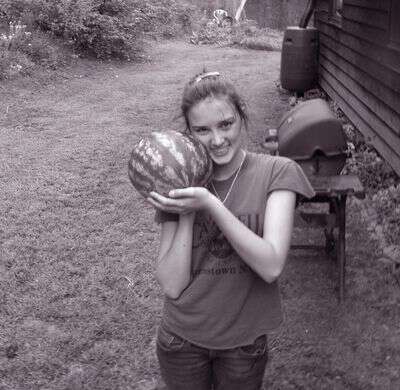 Back in August, I told you one of Chitter's watermelon plants decided to produce. Between then and now-her plants have produced about a dozen watermelons. Who knows why they waited so long to start. She planted them early in the year-just before we planted our tomato plants.
I've been telling her-there probably wouldn't be time for the melons to mature enough for us to eat them before cold weather. But the one I showed you back in August was deemed ready to pick a few days ago. I was terrified we'd cut into a green watermelon-but it was actually ripe and tasted quite good.
At least once a day-if not more-Chitter would convince someone to go check on the watermelons with her-no telling how many times she went by herself. Maybe all the attention she showered on her plants made a difference-or maybe she crawled backward to the garden when she planted the seeds. (if you don't remember why crawling backward would have helped-click here)
Tipper
Appalachia Through My Eyes – A series of photographs from my life in Southern Appalachia.