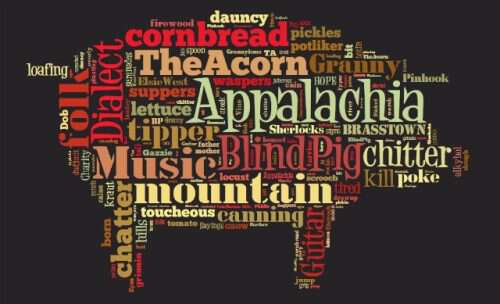 Earlier this week someone asked me how long I had been running the Blind Pig. Without hesitation I answered "March will make 5 years." Then I sat there and thought wow 5 years! I thought about the friends I've made-about all the fun I've had since I stood barefoot in the snow on a cold March day in 2008.
I remember how excited I was to start my endeavor of celebrating and preserving my Appalachian Heritage through a website. I studied on my idea for a good 6 months before doing anything. I wanted it to be a success-I wanted it to be right.
I'd tell people about my plan and folks would look at me like I was crazy saying things like "well that sounds real nice" then they'd change the subject. But I had supporters too-people who were as excited about my plans as me: Paul, Miss Cindy, Granny, Pap, Beverly, Dana, Cecilia, Jamie, and of course The Deer Hunter.
As I look back over the years, I realize I've reached the Promise Land-if there is such a thing in the world of blogs. I haven't gotten rich in monetary terms-but the wealth of friendship, love, and camaraderie I've found far exceeds my greatest hopes of being a successful blogger.
I'm not good at tooting my own horn. I mostly keep compliments to myself, pondering them in my heart, using them as a fuel of encouragement to keep my fingers busy typing for you.
All my blog related thoughts this week reminded me of a post a fellow blogger, Cassie Sanford Clark , wrote about me a while back. Cassie is a genealogist who blogs at The Sanford Family Misfit.
Here's what Cassie had to say about the Blind Pig & the Acorn:
Blind Pig & the Acorn: Bringing Appalachia Into Your Living Room written by Cassie Sanford Clark
Two years ago during some research I stumbled across a blog called Blind Pig & The Acorn. At the time I was missing home pretty badly. My daddy had been gone for less than a year and I found myself wondering when I would ever go home again. With both my dad and papaw having passed away and mamaw living with family in Wilmington – there was no longer anyone in Haywood County for me to go home to. I felt like half of myself had disappeared along with my daddy, because who was left that understood anything about bluegrass, clogging, hiking, fishing, or loving a place as viciously stereotyped as Appalachia?

The Blind Pig & The Acorn turned out to be exactly what I needed to make myself feel better that night. I scoured Tipper's blog for hours. I watched video after video of her daughters clogging, I listened to every bluegrass song on her playlist, looked at every photo she had posted, and read pretty much every post that she had written. I sat in front of my computer screen that night soaking in every tiny bit of heritage that Tipper offered up and didn't go to bed until after the sun had long since risen. I continued this trend for a couple of weeks until I felt inherently whole again.

It was around this same time that I began to consider what all of my genealogy research was leading to. Ultimately, it was the Blind Pig & The Acorn that supplied me with an answer. I wanted to share everything I knew, I wanted to reconnect with my roots, and I wanted to do the one thing I knew I was good at:  write. I'm infinitely grateful that I ran across Tipper's blog that night for many reasons, but mostly for inspiring me to do something.

If this is this first time you are hearing of Blind Pig & The Acorn – I'm telling you that you have to check it out. It's an incredible blog that has a wonderful way of bringing Appalachia straight into your living room.
————————
I may never get rich from the Blind Pig & The Acorn-but my dream of preserving and celebrating the rich culture and heritage of Appalachia is now a reality. Not just because of Cassie-but because of her and all of you who offer your support in a multitude of different ways-as you walk the steep mountain ridges and the deep dark hollers of Appalachia with me.
Tipper