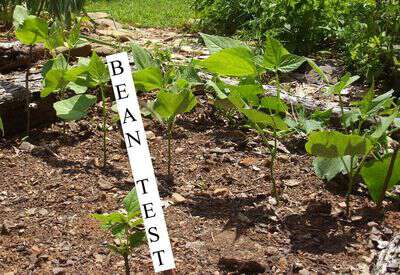 The 4th Annual Blind Pig & The Acorn's Planting By The Signs test kicked off in May of this year. The growing conditions the participants endured have been varied. In my neck of the woods summer start off with a heat wave. We had several days of over 100 degree weather with not a rain cloud in sight-a very unusual occurence in my area. Other places have had so much rain their plants have almost floated away! Such is the way of Mother Nature.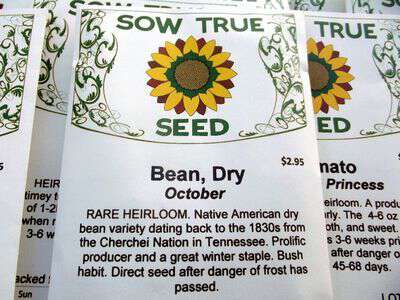 October beans were this year's test plant. The seeds were generously donated by Sow True Seed. My bean plants were very interesting to watch. My bad day plants were almost twice as big as my good day plants from the start. The good day never did catch up in size to the bad day plants. Both day's plants seemed to produce the same amount of beans over the course of the summer.
I went to check on the plants one last time about 3 weeks ago. The beans had sufficiently dried enough for me to pick and hull them out. The strangest thing had happened to the actual plants. Something had eaten every last leaf off the bad day plants-they were completely bare. But the good day plants-growing less than a foot away had not been touched by the munching leaf eater.
I had a few participants send me their results from the test:
Warren: Our entire garden was a bust this year. My beans started out great but the dry heat took over and we just couldn't water sufficiently. We got a few squash and a single mess of green beans. The only thing that seems to be still somewhat ok is the sunflowers. Anyhow, I cannot comment on planting by the signs this year because nothing was going to help.
Ron Creager: Three out of four seeds emerged from both the good and bad planting days. All produced heavy loads of pods about 2 weeks sooner than 1/2 runners I planted about the same time. Not anything scientific but I would judge a slight advantage to the good day seeds both in size and production. We suffered a long and severe drought this summer so the seeds proved a hardy variety. I allowed the pods to mature and have been hulling them out. They produced a large, pretty white and purple bean that I will save for seed.
Barbara Gantt: The good day beans did far better than the bad day ones. I am saving my beans for seed for next year so we can have a whole row. Hopefully, they will get planted on the good days.
Quinn: This has been a difficult planting season for me…either days and days of rain, or very hot and humid. I confess, those h&h days are when farm stands seem like a very fine idea to me! I did get out and plant both vegetables and flowers on a day in between the rainy spells, but not one seed has come up that I've discovered! I think the seed must have rotted…or maybe they were even washed downslope in the rainy days that followed? Kind of disappointing, and I've been no help at ALL in the planting by the moon project…sorry, Tipper!
Jeanna Morgan: I will have to go look but my husband forgot I planted them and started a ridge over top of them. He then realized what he had done and took back  off some of the dirt he had put on them. So mine are a bust. I hadn't seen but two small sprouts and one was a good day one and one a bad. So anyway I guess mine are a no go.
Linda Kerlin: My beans did not do well at all the good day beans died —–for awhile the foliage was beautiful blossoms and then the next day dead—the bad day beans followed shortly—to be honest as well I ended up not taking very good care of my garden this year so perhaps some of what I lost was my fault –did not even get to water some days—my Dad fell at the end of June and spent wks in the hospital and then when he went home he needed much care.
Tammy Fletcher: I planted on May 23 (good day) and May 26th (bad day). I got 50%  germination on the May 23rd planting and 100% on May 26th. May 23rd planted beans seemed to yield more per plant.
So there you go! Do I dare say our experiment didn't amount to a hill of beans : ) Oh well we had fun-and that's what matters most!
If you participated in the test-please feel free to leave your results in a comment. If you're interested-be on the look out next Spring-I'm sure I'll find something for to use in another planting by the signs test.
A big THANK YOU to Sow True Seed for sponsoring my test-and to all the folks who played along.
Tipper