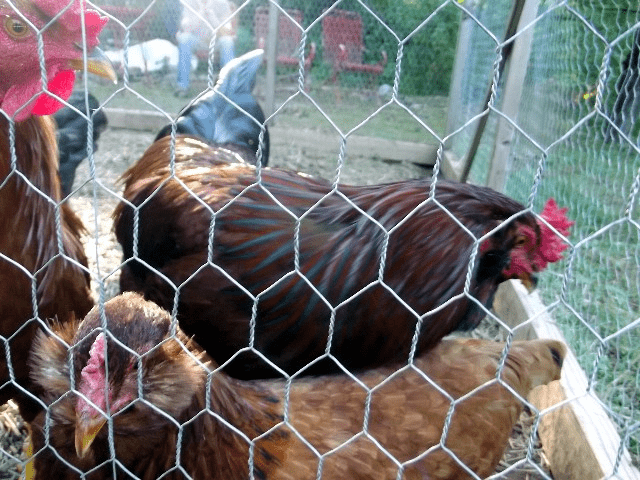 When I introduced you to our chickens-we had Rex the Rooster, 2 unnamed roosters, Polly, Gertrude, Nesta, and Missy.
Since then our flock has shrunk.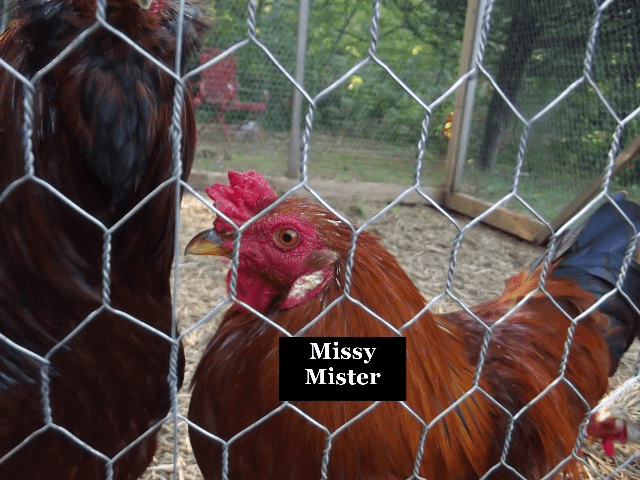 The 2 unnamed roosters were given to a friend, leaving us with one rooster-or so we thought. The ugliest chicken-Missy-turned out to be a Mister. Who knew it took so long to figure out if a chicken was a hen or a rooster? Well it probably doesn't for more experienced chicken wranglers than us.
As soon as we discovered Missy was really a Mister I wanted to give him away too-I kept saying Rex is more than enough rooster for our little flock. But Chatter had grown attached to Missy. I tried to reason with her-but she was having none of that.
Finally as I was grasping at straws, I tried to make her feel guilty-telling her she'd have to help pay for it's feed. Chatter said "You are not going to give this chicken away like you did my coon dog so just hush. I could be asking you to buy me a car-I could be asking you to take me here and there-I could be asking you for all the things other teenage girls ask for and all I'm asking you for is to let me keep a chicken I've already got!" Who could argue with that? So I said "Oh keep your stinking chicken!"
Missy turned out to not only be a Mister-but a Mean Mister as well. Every time we went in the coop Missy Mister started dragging his wing and prancing circles around our feet. Chatter had the misfortune of letting the chickens out on the morning Missy Mister decided to do more than his broken wing dance. He flogged Chatter good-even left peck bruises on her shins (if you were here she'd show you-she's shown them to every person who'd look and some who wouldn't).
Needless to say that little incident changed Chatter's mind and Missy Mister has now went the way of the 2 unnamed roosters. So we're left with: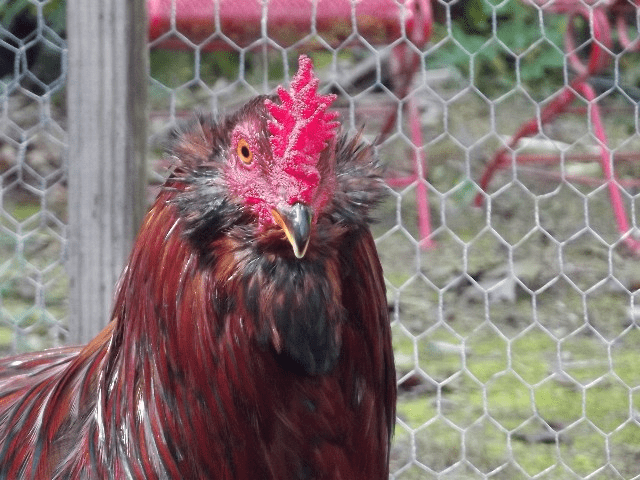 Rex the Rooster-who I swear is big enough for a small child to ride-he is huge! Rex always has an oily looking sheen to his feathers. The Deer Hunter said maybe he's using Dapper Dan to stay spiffy for his ladies.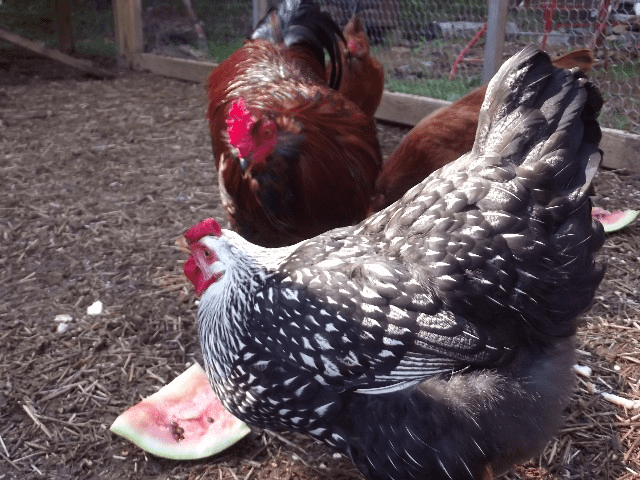 Nesta-the only Silver Laced Wyandotte hen. Nesta is still scared of us-she won't let anyone get close to her-but she lays a beautiful brown egg every day.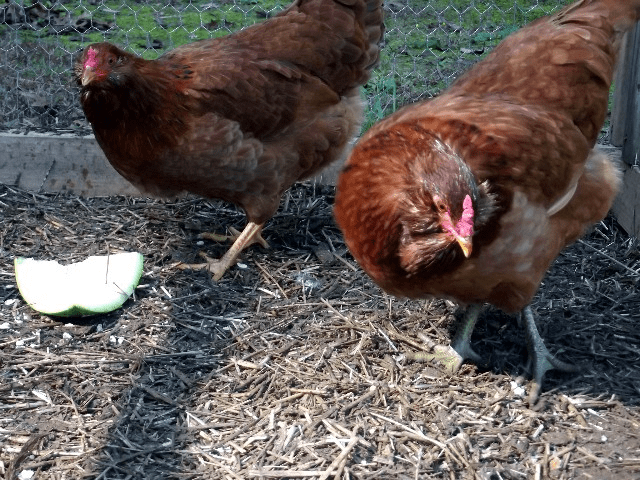 Sisters-Polly and Gertrude who are very friendly hens. The sisters both lay eggs in lovely shades of green-from a deep olive color to a lighter mint green.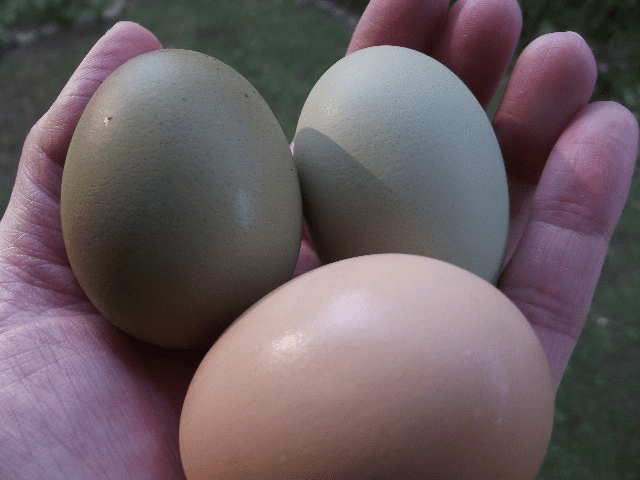 I've known chickens could lay green/blue eggs for a good long while, but I tried to research the phenomenon for those of you who commented you'd never heard of hens laying colored eggs.
The information I found was slightly confusing-so all you chicken folks feel free to correct me if I get it wrong.
The Araucana breed of chicken is from Chili and is famous for laying blue eggs. The Araucana is recognized by the American Poultry Association. The Arucana breed in not only known for it's blue eggs-but also for the tufts of feathers that protrude from their ear area.
Another breed of blue egg layers recognized by the American Poultry Association is the Ameraucana.
Then there are Easter Eggers-which are not recognized as a true breed. Easter Eggers do have the blue egg gene-but may or may not have the strict descriptive characteristics required by the association to be considered an Ameraucana or an Araucana. In other words-Easter Eggers are mutts. Easter Eggers may lay blue, green, brown, white, or even pink eggs.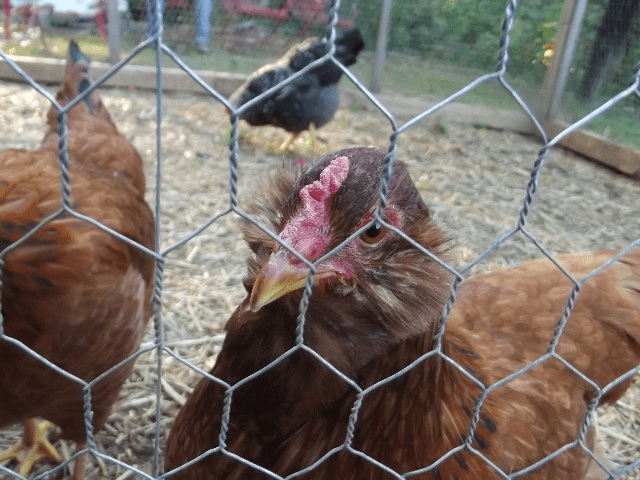 The friend who gave us our Easter Eggers said they were a mix of Rhode Island Reds and Araucanas. According to my research that 'mixture' would make them Easter Eggers aka mutt chickens who lay beautiful yummy green eggs. You can see Polly's side burn looking tufts in the photo above. Her, Rex, and Gertrude all have them. And Polly has green feet too.
The only person who was sad to see Missy Mister go-was The Deer Hunter. Missy Mister had crowing down pat. Rex-not so much. He starts out good then sorta forgets how to end it.
Want to know more about the blue-green-pink-brown Easter Eggers? Go here: Ameraucana Breeder's Club.
Tipper