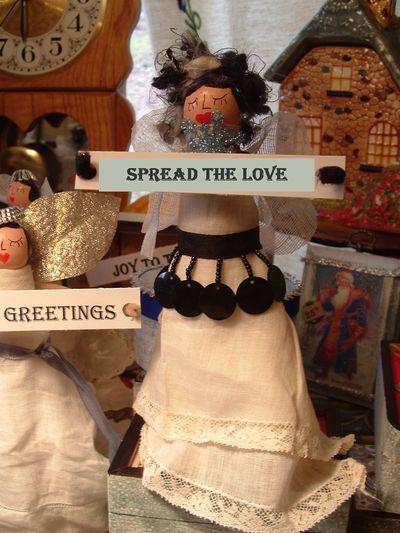 Time to Spread the Love to all the readers who took time to comment during the month of November-you truly do make the Blind Pig & the Acorn a better place to visit-and I thank you.
Janet, Just Jackie, Julie at Elisharose, Miss Cindy, Brenda Kay Ledford, Osagebluff Quilter, Warren, David Templeton, Martina, Glenda, Fencepost, Rick's Whitetail Woods, Mary Life In A Cordwood Cabin, Paul Saltcreek, B. Ruth, Vicki Lane, Eva Nell Mull Wike, Ph.D., Sarah, Wanda, Stacey South Western PA, Lynn Legge, Pat in East TN, Jen, Sandra, Sheryl Paul, Kenneth M. Roper, Anastasia, Mike McLain, Nancy Simpson, Kenneth O Hoffman, Mamabug, Kat, Lonnie Dockery, Canned Quilter, Jim Casada, Don Casada, Charline, Bradley, Uncle Al, Rooney Floyd, Teresa, Rachel Sliding Through Life, Luann, Ethel, Sheila Bergeron, Jennifer In OR, Melissa P Misplaced Southerner, Wanda Devers, Bill Dotson, Donna W, Sandy Carlson, Janet Pressley, PinnacleCreek, Suzi Phillips, Debby Brown, RB, Pointless Picks, Lise, John Dilbeck , Mary Shipman, Shirla, downthelanegirl, Glynda, Sue Crane, Lisa At 2 Bears Farm, Gary Powell, Ed Myers, Dolores, Sassy, Baking Barb, Sherie Rowe, Charlotte, Mary Rutherford, Elizabeth K, Susie Swanson, Cee, Wayne Newton, Laurie Stone, NCMountainWoman, Tea4Too, Bf, Ron Banks, Mary Berrong, John Stonecypher, Tom, Lewis, Tim Mclemore, Sandy, Rosann Kent, Nancy M., Tony Foster, Brenda 'Okie in Colorado, Carol Isler, Kristina in TN, Bill Burnett, Leon, Madge, Kimberly, Kim at Stuff Could Be Worse, Thurmon Allen, Ed Ammons, Laura Williams Musings, Carol, Juana, Ethelene Dyer Jones, Patty Hall, Joe Mode, Judy, Karen Larsen, Grandma Sallie, Janice MacDaniels, Christine, Lanny, Linda Kerlin, Sue Nugent, Brian Blake, Laura Cunningham, Sam Ensley, Will Dixon, Alica Happily Married To The Cows, Kay, Diane, Mary Jo,  Sam at My Carolina Kitchen, Rose C, Vera Guthrie, Malcolm, Debora Kerr, Fishing Guy, Rechelle, Cheryl Soehl, Shirley Owens, Coffeemuses, Katie Byrd, Grandpa Ken, Sandy K, Garland Davis, Belva, Larry Proffitt, Robin Gregg, Betty Cloer Wallace, Becky J, Jackie Shound Ringersma, Granny Sue, Karen Twiss, Darlene LaRoche, Jen Y, Ruthie Miller, Theresa, Judith, A, Kent Lockman, Barbara Gantt, Dorothy, Dale Anderson, Ebet, Alan Lee, Pamela Moore, Clint, Maddie, WinterHawk, John, Lydia, Ron, Mary Lou Sweat, Jerry M In South Arkansas, Jon Freis, Gary, Mama Crow, Roncreager, Barbara Johnson, Mike Echols, Marianne, Barbara Daca, Ferne Kellow, Gloria, Ronda, Hug A Porky, Penny, Jane, Kay Dallas, Jo, Cyndi, Paul Certo, Phyllis Schmitz, Paula, Steve, Trisha Too, Miss FiFi, Davenwell, Lanie, Annette Casada Hensley, Kathy Johnson Callahan, Ken Kuhlmann, Kate, Kaye M, Jim Pappas, Sandi, YoungHarrisBob, Michelle Robinson Roper, John Way, Wendi Gregg, Darlene Debty, Kimsey, Nancy Wigmore, Mel, Lorraine, Georgie, Susan C, Bobby C, Marcia Campbell, Gina Lagaly, Kinda Shupe, Kenneth Swanson, Gary Greene, Caroly, Rudy Frias, Bob Humphreys, Charles Fletcher, Jill, Amber, Bob Aufdemberge, Debbie, Carol Ann, Bernadette B, Sandy Wilson, Ashley Ransom, Monica Cochran, Dana Holmes, Kempie Rackley, ~Kim, Anna, Dolores Barton, and Dilli.
———————
Remember the Christmas Doll Decorations I made last year? I thought I sold all of them-but while I was pulling out the tree decorations I found a few I had put back. I don't have the one in the photo above-but I do have one just as pretty. And I decided to give it to the Spread the Love winner for the month of November.
And the winner is…Ebet!
All the commenters names in orange have a website too-click on one and go for a visit-I know you'll be glad you did.
Tipper