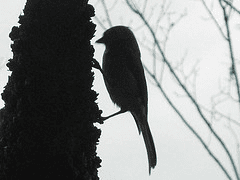 Chitter nabbed this bird photo out our porch window. I made the pine cone Christmas tree when the girls were little. I picked up the tiny pine cones from under Granny's trees-then hot glued them to a tree form.
Over the years the tree started falling apart, not wanting to throw it away me and the girls spread peanut butter on it and rolled it in birdseed. The girls made a similar craft back in their girl scout days.
Since I was thinking of birds-I couldn't resist checking out what the Frank C. Brown Collection of NC Folklore had to say on the subject. Here's a few I found:
~When birds fly close to the ground expect rain.
~If a bird sings while sitting on a chimney there will be rain before dark.
~If a bird flies into the house it is a sign of death.
~Birds singing in the morning is a sign of rain. (seriously?? wonder who came up with that one)
~If birds come close about the house you can expect bad weather.
~If birds fly south earlier than usual in the fall-you can expect a bad winter.
As always-if you know any additional bird folklore I hope you'll leave a comment!
Tipper
Appalachia Through My Eyes – A series of photographs from my life in Southern Appalachia.