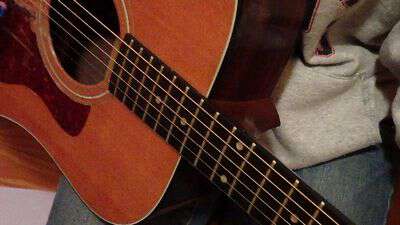 Did you know some guitar players are frammers? I didn't-until I overheard an elderly gentleman in Haywood County say the following:
Lots of people think they're guitar pickers and a lot of them can play but a lot of them are nothing but frammers. I mean they don't know how to really play a guitar.
I couldn't wait to look for the word frammer in my Dictionary of Smoky Mountain English. The dictionary has 2 entries for fram:
fram verb to beat or strike. 1953 Wilson Folk Speech NC 548 = to whip, beat: "He frammed the old feller pretty good."
fram pole noun 1953 citation. 1952 Wilson Folk Speech NC 542-53 = a weapon; a stick or some other object with which to beat one. "Goin' a get me a fram-pole and beat you up."
The Merriam-Webster online dictionary states the word fram means to beat or whip and is of unknown origin.
The gentleman I overheard used the word frammer to mean-a lot of people pretended to know how to play the guitar when they really don't.
I've heard the remark "he just beats on that ole guitar" more than a few times. After reading the definitions of fram I can see where one could jump from using beat in connection to playing a guitar to fram in connection to playing a guitar.
I've never heard frammer-fram-or fram pole used before have you? I like the word frammer-I can't wait to use it the next time I see someone acting like they're an expert at something they actually know nothing about.
Tipper
Appalachia Through My Eyes – A series of photographs from my life in Southern Appalachia.