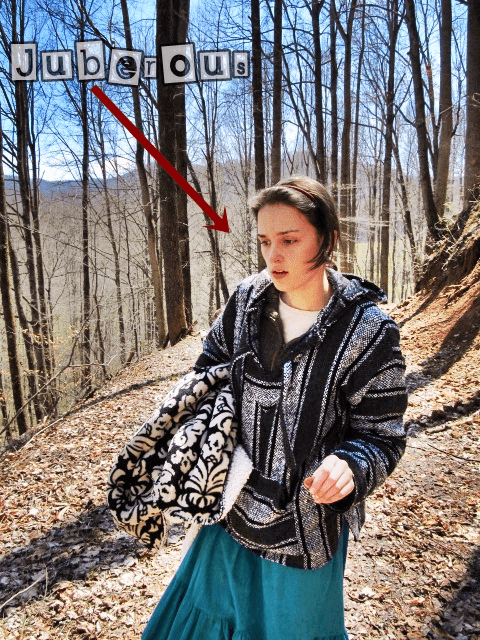 "Chitter was juberous about her next move. She didn't know if she should continue her journey or curl up in her blanket and sleep awhile."
————-
A few weeks ago I got the following email from Sanford.
Tipper,

This is a word my Mother used quiet often when she was skeptical about something. Is it a word with which you are familiar?
sanford

juberous

adjective ju·ber·ous \ˈjüb(ə)rəs, -bə(r)s\
Definition of JUBEROUS

South and Midland
: doubtful and hesitating : dubious
Here's a portion of the entry the Dictionary of Smoky Mountain English has for the word:
dubious adjective
A variant forms juberous, jubers, jubus.
B Hesitant, uncertain, doubtful.
1859 Taliaferro Fisher's River 204 I felt mighty skittish and jubus of Davis, fur he was allers a-swaggerin', and cavortin', and boastin' about. 1895 Edson and Fairchild Tenn Mts 372 He was juberous about crossing the stream. 1937 Hall Coll. Wears Cove Tn I was jubers of that. (Jim Lawson) 1939 Hall Coll. Cataloochee NC Uncle Steve said, "You go around [the bear]. I'm jubers and I'll go below him." (Will Palmer) ibid. White Oak NC juberous = kind of afraid. (Carl Messer)
Although I've read the word, I have never heard anyone use it in my area of Appalachia. Have you heard or used the word juberous before?
Tipper