Today's guestpost was written by Don Casada, Don also provided all the photographs.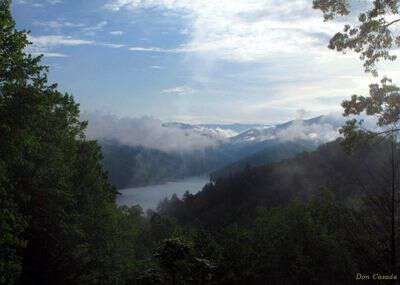 Looking northeast up the Hazel Creek basin from the south side of Fontana Lake
Of Mountains, Mountain People, and Mountain Waters That Call Their Children Home written by Don Casada 
Close on the heels of dog days, on a warm September morning, a shuttle boat carried a gathering of folks across Fontana Lake. Shortly after leaving the launch area at Cable Branch, the boat passed over the streambed of what was once a fine mountain river.
From way back in the mountains, hundreds of feeder streams laughed, jumped, played, and sang along their descending way. Boisterous waters showered diamond sprays of life onto the stream banks where ramps, sarvis, squirrel corn, bluets and yellow root reaped the blessings of their contagious joy. They were living, life giving waters.
Trickles became branches, branches became forks, and forks became creeks. The accumulated collections fed the Oconaluftee, Tuckasegee, Nantahala and Little Tennessee Rivers, waters eons older than the Cherokee names which predated the arrival of white men. The Tuckasegee, a man among men flowing on an east-west course, met the south-to-north flowing lady of the Little Tennessee. It was love at first sight, and the couple was married near the place that would become the little town of Bushnell. Tuck, the gentleman, defied human convention and took on the name of his bride. Although they called themselves the Little Tennessee, it was Tuck's east-west course that they followed from that point on, in deference to his better judgment. For Tuck, unlike the sweet Little T, drew much of his life blood from the Great Smoky Mountains which they would skirt along the rest of their way. Of all those who traveled these mountains, no one knew every holler like Old Tuck.
Now more mature in demeanor than in their earlier rambunctious ways, the two that were now one inclined to a gentler course, as if on a front porch swing of a Sunday afternoon. But they could still kick up their heels every now and then. Like all couples, they'd occasionally have their issues, separating to the left and the right around Calhoun Island near Wayside. Differences resolved, they rejoined hands downstream, and the family continued to grow along the way.
Damned by progress and dammed by the TVA, laughter and family ties along this section of the Little Tennessee have been silenced and broken for seven decades. The life-giving energy from North Carolina Counties of Jackson, Macon (Macon's part includes a charitable donation from Rabun County, Georgia), Graham and Swain is deadened by the dam, harvested by turbines, and sent by wires without payment into Tennessee. The formerly vibrant river lies buried beneath 370 feet of stagnant water and silt accumulation at the point where our boat passed over.
Our destination was Hazel Creek, a place where unhindered waters still flow and echoes of laughter yet linger, unreachable by the roads of an uncivilized world. There are those who despair the lack of road access to this land, including some of our little company. A sense of betrayal by the same federal government – which took the land that many called home – underlies the despair. But were there now a road to this place, I fear that the song it sings softly in minor mountain key would be lost in the discordant strife and the noise. That has certainly been the case for Cades Cove, located just across the of the Smokies, where an armada of automobiles daily assault what was once a place of perspicacious people imbued with both the spirit and ability to make do.
There are reasons aplenty to go to this place and others like it. I routinely find myself seeking the refuge of walking and crawling, sometimes tumbling and sliding through these mountains, most often alone. Whisperings of advice and signs of parental affection – as well as stern admonitions – from these mountains (which are indeed our parents) are most readily perceived by the wonderfully lonesome, if somewhat prodigal, child.
But on this day, I was glad to be in the company of some like-minded companions. Though seeking a place, ours was not a search for solitude. We were intent on congregating, committing, honoring, and remembering.
Proctor
The particular place on Hazel Creek to which we were headed has been known since the late 1800s as Proctor. Sometime before 1830, Moses and Patience Proctor settled here and began raising a family. Their home place was on what is now known as Shehan Branch in Possum Holler. It empties into Hazel Creek – or directly into the lake itself when it is full – almost four miles from where Hazel Creek once emptied into the Little Tennessee River.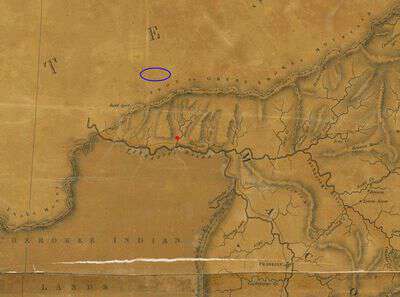 Robert Brazier map of 1833.  The red dot marks Proctor, the blue ellipse indicates Cades Cove 
The Proctors had come over the main spine of the Smokies from Cades Cove. If it was solitude and elbow room they sought, they found it. Based on the sequence of names in the 1830 Macon County census (this area is now in Swain County, but Swain wasn't formed until 1871) and knowledge of where other families located, it was likely well over a half-dozen miles to their closest neighbors. Something just felt right about this particular place, so they carved out a home and a life for themselves and their children here. Bradshaws, Cables and others were soon to come to the area, but it remained sparsely populated for decades.
In 1848, Joseph Brackett composed the Shaker Hymn, Simple Gifts. Though penned a thousand miles away near the northeastern end of the Appalachian Mountain range, the words could well have applied to the lives of Patience, Moses, and their children in the Hazel Creek valley:
'Tis the gift to be simple, 'tis the gift to be free,
'tis the gift to come down where you ought to be.
And when we find ourselves in the place just right,
It will be in the valley of love and delight.
Times and seasons pass; lives and circumstances change. The Civil War took away two of their sons, Moses, Jr. and Mansfield. Moses, Sr. died, perhaps of a broken heart, in 1864. Patience lived to see the end of the war and the return of two sons and a son-in-law, but according to family tradition described by Duane Oliver in Remembered Lives, she was never the same. She died in 1870, and is buried beside Moses on the ridge near their home.
Over time, their children and their children's children drifted to and fro, ranging up the river and across the mountains back into Tennessee. Ritter Lumber Company arrived and set up a massive operation in the early 1900s, providing hundreds of jobs – for a time. But by the late 1920s, the raw materials of the entire Hazel Creek basin had been sawn, kiln dried, cut to dimension, and shipped away to become floors, furniture, books and toilet paper, so Ritter Lumber closed shop. While there were still several dozen families who owned land and lived in the area, including some descendants of Moses and Patience, the vast majority of the Hazel Creek drainage was now owned by land speculators such as Jack Coburn and James Gudger (to whom Ritter had sold its vast holdings). Private fishing waters were established, with uninvited natives unwelcome.
Physical connections to vestiges of life as it had once been were completely severed by the construction of Fontana Dam in the early 1940s. Exercising powers of what might be called pre-eminent domain with a will, TVA acquired all lands on the north shore of Fontana, removed the people and turned the land over to the Department of Interior for inclusion in the Great Smoky Mountains National Park. It is worth noting here that the entire area along the north shore of the Little Tennessee had been coveted for the Park since the 1920s; in fact, it had been included in the original park outline, drawn in 1926.
In the course of a century, Hazel Creek witnessed the coming of the first white settlers, an era of slow increase in families on subsistence farms, followed by a period of rapid industrial and job growth, an equally rapid loss of resources – and thus industry and its jobs. By the time the 1930 census was taken, there were but two dozen individuals on the entire north shore who listed saw mill or logging as their trade, and most of these were well to the east of Hazel Creek.
Just over a decade later, there was to be no more permanent human presence.
And yet…..even now, there is something about this place which seems to want people around, and it keeps calling its children home. I have, by shank's mare, traveled the length and breadth of the Smokies. In most of the places I walk, I get a sense that my mountains are content with the occasional passerby, preferring to speak in private, at least with this itinerant pilgrim. But lower Hazel Creek and the Proctor area in particular seem to me to be a section which asks when I've traveled there alone: "Well, it's good to see you, but why didn't you bring the rest of them along with you?"
I reckon Proctor just couldn't stand the idea of not being able to come to Elisabeth Holt's 16th birthday party, so it reached out across the miles, and called her home. Just as her sister Caitlyn had before her, she chose to be baptized in Hazel Creek near the place where their fifth-great grandparents, Moses and Patience, lived, raised a family, died, and are buried.
Baptism is an affirmation and a public, personal statement of faith. When I asked the girls why they chose this place, Caitlyn indicated that she did so to affirm her gratitude and connection to all her forebears, and especially to her Pawpaw Troy Proctor, who had died a couple of years before. Elisabeth echoed Caitlyn's thoughts about the family, and went on to say "but it's also because I feel really connected to the mountains – it's my favorite place to be."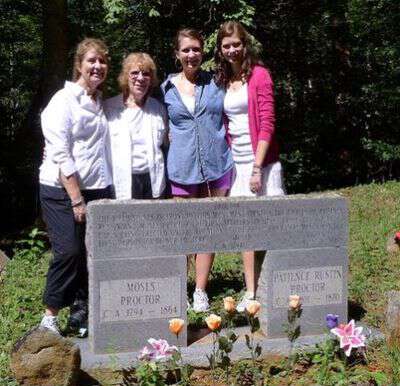 Celyn Holt, Christine Proctor, Caitlyn Holt and Elisabeth Holt at the grave of Moses and Patience Proctor
It is the element of baptism – water – which truly distinguishes the Southern Appalachians, and in particular, the Smoky Mountains from other mountain ranges. The Smokies are a temperate rain forest, with the upper reaches receiving over 80 inches of precipitation a year. The combination of abundant water and elevation range make this place host to an incredible variety of wildlife. Over a hundred species of trees grow here, and the spectrum of wildlife could be described as enthusiastically exuberant.
Before the baptism, the Angelettes, Chitter and Chatter, sang of waters, recalling when John baptized Jesus in the River of Jordan. Dennis Cole, in lifting his cousin Elisabeth from the water, said "buried with Him in baptism, raised again in newness of life." Water goes whithersoever the Trinitarian spirit of evaporation, condensation, and gravity wills it to go.  I was struck by the thought that molecules of water which once flowed in the Jordan could very well have been transported across both miles and millennia, and were right there in the Hazel Creek's cleansing flow on that day.
Along the edge of the pool where the baptism took place, grew a cluster of brilliant red cardinal flowers. Closely associated with water themselves, they flourish along streams, seeps and springs. Words of Isaiah, put into song by Fanny Crosby, came to mind.  Fanny, though blind from childhood, could see further and clearer than most of us ever will:
Though your sins be as scarlet,
They shall be as white as snow.
Though they be red like crimson,
They shall be as wool.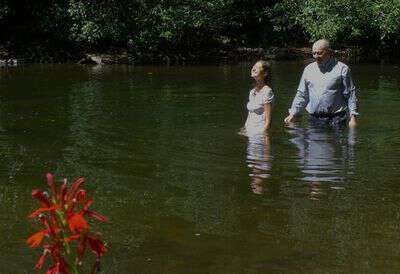 Elisabeth Holt and Dennis Cole after Elisabeth's baptism
As Elisabeth emerged from the water, her appearance was a radiant white. A light breeze or angel
rustled through sycamore and oak leaves nearby. The glow of the sun and the Son was reflected in her countenance. Somewhere known only to God, but I suspect it was not all that far away – perhaps just across the river, resting beneath the shade of the trees, generations of Proctors – Moses and Patience, James and Malinda, Jeff and Sarah, Harvey and Minnie, and Christine's husband Troy – assembled and together sang the song which Elisabeth's grandmother Christine had requested of our group (but at which we failed miserably):
"Yes, we'll gather at the river,
The beautiful, beautiful river,
Gather with the saints at the river,
That flows by the throne of God."
Hazel Creek was stripped sadly bare a century ago. Then the Little Tennessee River and a way of life were flooded by TVA and taken for the national park. But in spite of it – and in an ironic and bittersweet way, perhaps because of it  the Possum Holler and Proctor area which we visited on this day was far more like the promised land of Moses and Patience than if there had been no dam and no national park. There would certainly be no calling of children home to a theme park at Proctor.
In a way, the circumstances are somewhat akin the betrayal of Joseph by his brothers. As Joseph would later say, in forgiving them, "You meant it for evil, but God meant it for good."
Whatever the case, on this day, there were smiles on earth and in heaven. A child had come home, to the place where she belonged – to the place just right.
Irrespective of legal title, these mountains belong to Elisabeth. What is more, she belongs to them. No matter where she may wander upon this earth, neither they nor the living Savior who have claimed her will ever let her go.
———————-
I hope you enjoyed Don's post as much as I did! Leave him a comment and I'll make sure he reads it.
Tipper