Today's post was written by Paul.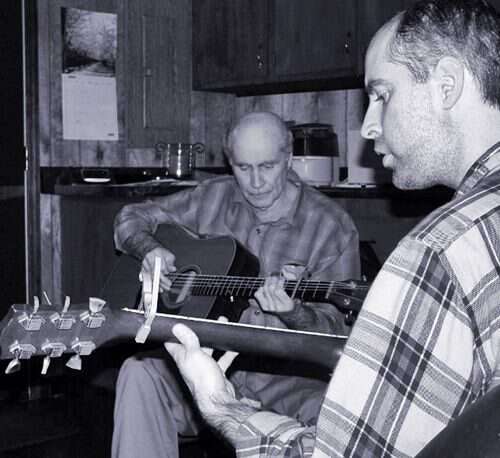 A few years ago, we decided to try "Little Rosewood Casket" one weekend. We never really got a complete cut that was satisfactory, but the harmony is nice in places and my nephew Ben does a great job of cross picking. He went off to college shortly after this video, and we never tried again. This version is closer to traditional versions that I heard growing up (prior to the trio version of Parton, Harris, and Ronstadt). My favorite version with singing is that of Reno and Smiley. There's also a really cool instrumental version from Larry Sparks and someone playing a musical saw. I heard it sometime in the 90's on WCQS "Country Roots" program with Wayne Erbsen. At the beginning of the video, Pap agrees that it's a beautiful tune although he says the lyrics are stupid. 🙂 The farther the video runs, the more out-of-sync the video gets with the audio. Hope you enjoy this video despite its complete lack of polish.
—
I hope you enjoyed the information Paul shared and of course I hope you enjoyed the video too. If you made it through all the false starts you must be a true Blind Pig fan 🙂
Even though we never got the song exactly like we wanted it I think it sounded pretty good. The video definitely captures the joy making music brought to us all.
Tipper
Subscribe for FREE and get a daily dose of Appalachia in your inbox