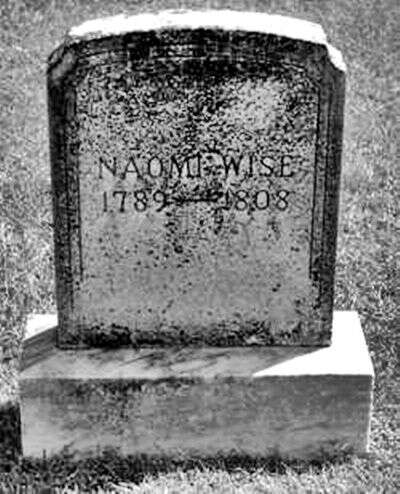 Photo from Find a Grave
From This Day in NC History:
Poor Naomi Wise, "Sacrificed to the Beast in Man"
On April 8, 1808, Jonathan Lewis was arrested for the murder of Naomi Wise. Wise, an orphan, cook and an occasional field hand noted for her beauty and her innocence, lived in the household of William Adams in Randolph County. Lewis was a frequent visitor to the Adams house.
Courting Naomi while promising marriage to another woman, Lewis led the pregnant Wise to the Deep River and pushed her off a bluff, drowning her. Jailed in Asheboro, he escaped and made his way to Ohio. He was eventually tracked down by a bounty hunter and returned North Carolina, where he was acquitted of murdering Wise for lack of evidence. Legend has it that he confessed to the crime on his deathbed.
Much of what we know of the murder comes from an account by Braxton Craven, president of nearby Trinity College, who researched the story. Craven based his 1851 retelling of crime on the memories of local residents. Lewis, by Craven's account, was a "merciless wretch, a hyena."
The site of Wise's death came to be known as Naomi Falls. The story was brought to people nationwide largely through the folk ballad, "Naomi Wise," which was a favorite of Doc Watson's.  Like "Tom Dooley" and "Frankie and Johnny," the song relates the story of a North Carolina murder with drama and pathos.
—-
If you've never heard the song go here for a great version by Doc Watson.
Tipper
Subscribe for FREE and get a daily dose of Appalachia in your inbox