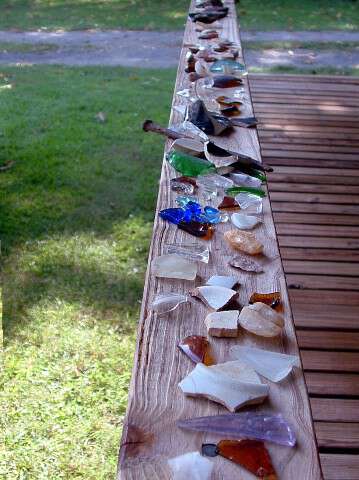 Last weekend we spent the day at the old house that sits beside the TVA Lake. Chatter and Chitter found tons of old plate and bottle shards while searching the shoreline.
Each piece of history they carried back to show me, made me think of W.C. Penland-even though I'm sure most of the pieces aren't from the 1800's and I'm not even sure W.C. ever lived near the big house- but my mind still thought of him.
When we last left W.C. he had witnessed the first fierce fighting of his service. Let's see what he has to say in his next letter home.
Washington County Tenn
Feb 16th 1863
Dear Father and mother
I avail myself of the fineses opportunity to let you know that I am well hoping that these few lines may find you and all of the family & friends enjoying the same blessing (there was a hole in the paper) kind providence    it is raining here today and is warm and pleasent    James Crawford is still very very low but is a little better than he was the last time that I wrote but is not out of danger yet    George Loyd is sick yet and I do not know what is the matter with him    A M Cook has got into camp again and is a gitting right smart better    Capt moore has gone to Knoxville and has been for several days    I think that he will be in tonight    he will come home in a day or two after he comes to camp    cousin Robert Alexander is well and uncle Wyly is also   the health of our Batt is tolerable good at this time    Samuel Justice is sick but is a gitting better    When I heard that you had come to Macon to see me I was very sorrow that I had not have stayed there a few days longer I could have stayed until monday if I had of tried to have done it    We are a gitting a plenty to eat at this time and tolerable plenty for our horses    there will be four or five men that will come with Capt Moore when he comes home but I do not know who they will be   I do handly expect I will get to (hole in paper)    I think I will come about fifth of this month I have been to (hole) today   we have a chaplain now    I hope that he will stay with and not do like the other one that we had    He stayed until he drawed a hundred or two dollars and only preached one sermon but I do not think that the one we have got is a very clever man    his name is Harris    We have had preaching every Sabbath for three or four weeks    as it is a gitting late I will bring my few lines to a close    write soon and give me the news    Address  Jonesborough  Tennessee  65th NC Reg   our battalion has been turned to a Regm
give my respects to all of the friends and relatives
so no more at present    but remains your affection son as ever
   to H. M. Penland
W.C. Penland
2 things jump out at me from this letter-the amount of sickness he talks about-and that his family made a long trip to see him-but didn't get there in time. Can you imagine how they must have felt when they realized they only missed him by a day or so? And how he must have felt to know he almost got to see them?
What jumps out at you?
Tipper