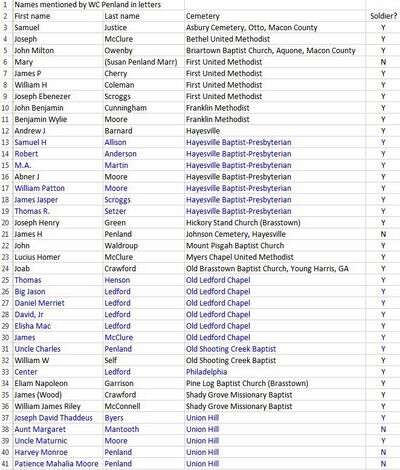 The first time I ever read the Civil War letters written by W.C. Penland several things jumped out at me.
I was struck by the knowledge that he lived and walked in places I know intimately.
My heart was torn by the longing for home that weaved it's way through every last letter he wrote.
I was beyond impressed by his skillful handwriting.
My eyes and mind were pricked by the abundance of surnames in the letters that are still common in this area 150 years later.
Don Casada took the time to write down all the names mentioned in W.C.'s letters. The list contained family members as well as members of W.C.'s company of soldiers. The image at the top of this post is a screen shot of the list. Don has noted if the individual was a fellow soldier of W.C'.s or a family member. He also listed the cemetery where the individual is buried.
In the Civil War most soldiers signed up and served with their neighbors and friends. This made it a certainty that W.C.'s family knew the men he wrote about in his letters.
W.C. mentions Big Jason Ledford in more than one of his letters. The first time I read the name I thought to myself "Hmmph I bet there's a Big Jason Ledford living in Clay County right now." The Ledford surname is beyond common in both Clay and Cherokee County North Carolina today.
While researching, Don discovered there were actually 2 Jason Ledfords serving with W.C. And a total of 10 Ledfords in the company.



In Don's own words:
"It turns out that there were two Jason Ledfords who served in William Patton Moore's company. Both enlisted in Hayesville on the same day (July 5, 1862). Jason W. Ledford was 27 years old, while Jason Ledford was 34. There are a couple of records for 34-year old Jason which list him as Jason Big Ledford or Jason (Big) Ledford. The use of "Big" was apparently a standard convention to distinguish the two."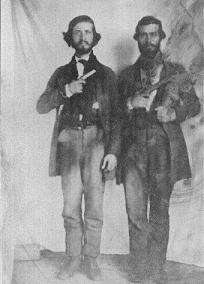 Paul Sink posted this photo on Find A Grave. It's of Jason W. Ledford on left; Elisha Mac Ledford on right. Don's research also showed Jason W. Ledford came back home, married Harriet Hogsed in 1881 and moved to Colorado.
More from Don:
"At least four of the Ledfords who were in the company are buried at Old Ledford Chapel Cemetery. Elisha Mac, mentioned above has Confederate States marker as does Daniel M. Ledford. At least two, David and Jason "Big" Ledford apparently switched sides. Their grave markers both have them in the 2 NC Mounted Infantry, which was a Union outfit. Several genealogies in Ancestry.com have Jason "Big" as a brother to David. Center Ledford, definitely a brother of David (per census records), has a Confederate marker (Company F, 65th NC Regiment – which is the WP Moore company) on his grave, which is at Philadelphia Baptist Church Cemetery in Hayesville."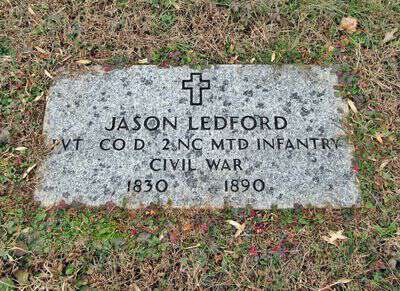 A few months ago, the girls and I tagged along with Don and his wife as they tried to document a few of the graves from the list at the top of this post. We found Big Jason Ledford, right where he was supposed to be in the Old Ledford Chapel Cemetery.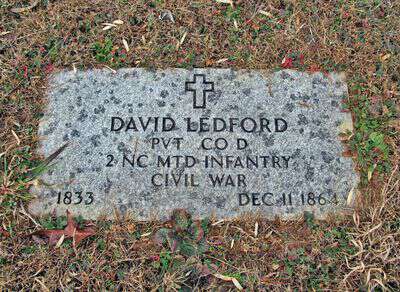 David was there too-even if he's not Jason's brother he's surely related in a close manner.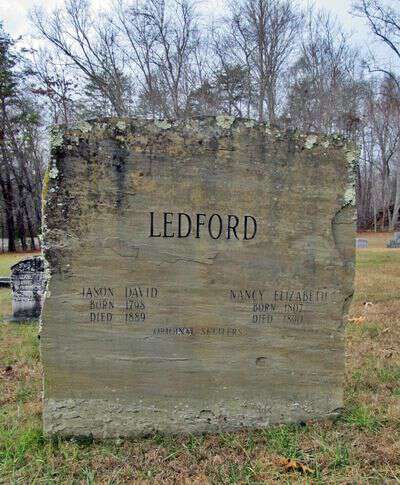 Also in the same cemetery is the beautiful rugged marker above. Jason David born 1798; died 1889 – Nancy Elizabeth born 1807; died 1890 – Original Settlers.
Jason Ledford, David Ledford. The names were in Clay County in the 1700s, and  the 1800s, and the 1900s. One of my closest friends is married to a David Ledford and they reside in Clay County today. And I'm positive if I searched all over Clay County surely I'd find at least one Jason Ledford. So I can add the 2000s to the list.
That's a lot of years for a family to live in the same general location. The story of Big Jason Ledford no doubt has to include the horror of the Civil War, but for me the brightest part of his story is the longevity of his family line. I like to think about all those generations passing down the traditions and culture of Appalachia.
Tipper