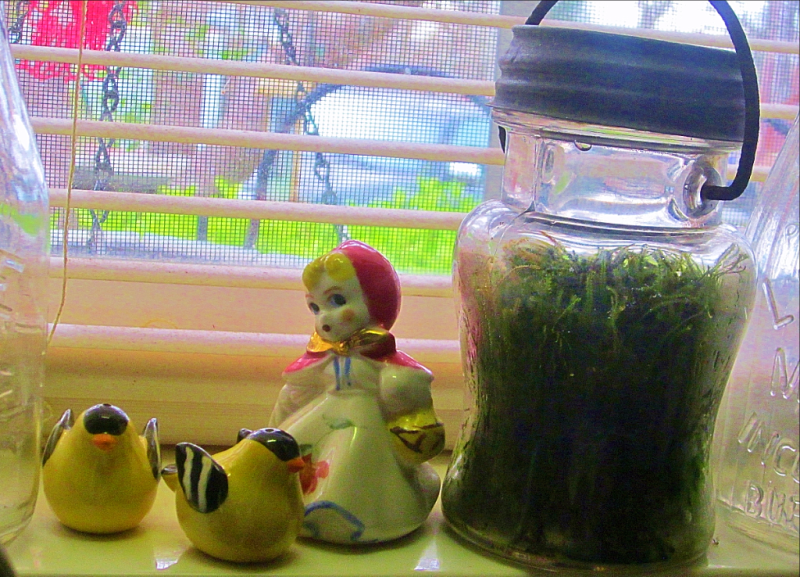 After reading my Gathering Moss for Christmas post earlier this week, B.Ruth left the follow comment and she also sent me the two photos in this post.
Tipper, When I started reading this post, I glanced over to my old jar of moss on the kitchen window sill. It has been growing there for years. I love it and take care of it. If the sun gets too hot in the summer, I close the blinds a bit but for the most part the Kwanzan Cherry tree outside casts shade on the window so only an hour or two sun shines thru the window. It is growing in a bail pint jar. I am going to send you a picture of it as I can't figure out how to get it on this post. My Little Red Riding Hood sits by the jar as do a couple of old milk bottles and gold finch figurines. When I want to smell the woodland, all I have to do is open the jar! Whiff a bit and the memories come back in a flash. I think it has basically now reached its pinnacle of growth. When I feel that it need a bit of moisture, as I am sure some leaks out the screwed on zinc lid over the months, I give it a very light, meaning a few drops, of moisture. I loved using moss for just about anything in the garden or on top of flower pots thru the years and of course crafts. I used to make lichen trees, shrubs glued on rocks and add miniature clay houses I made and mushroom men. I sold these for years. There are folks these days picking up our Appalachian woodland entertainment as children, and actually growing different mosses in their gardens. I loved this post Tipper, and love your crafts. Your jar of moss is similar to mine except mine is right side upards! ha Thanks Tipper, You may post my picture if you want to!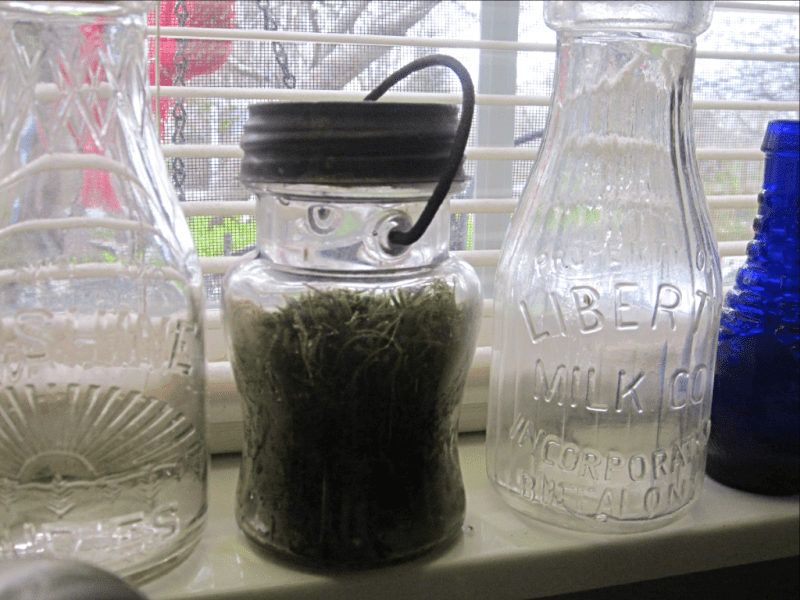 After I saw B.Ruth's photos I was fascinated by the idea of growing moss in a jar. I asked her a few more questions about her jar of moss and this is what she said:
Tipper here is my moss jar. I love it! It is an old, old jar. If you look close you can see the air bubbles in the jar along the rim. I am not sure if a zinc top was what went on this jar but it worked and that is what I used. I got this jar at my mothers hid back on a basement shelf. So I know it came from back in the hills of Madison County. ha

Her Mother used quart jars mostly with glass tops or zinc tops. Makes me wonder if Mother used this jar when she played as a child. She told me she used the little glass inserts of zinc lids that had ruined or etched from salt when the kraut worked. Her Dad pulled out the little white glass lids for her to make little dishes.
I can't remember exactly how long I have had the moss jar. It is like a terrarium, essentially living in it's own environment. As long as it doesn't get too hot or freeze and the moisture is even to the environment it lives in, it should live on and on. I used to build terrariums in large bottles and jars and sold them at the flea market with other crafty things. Back then I used all the methods the books suggested. Charcoal on the bottom, no charcoal with oil in it and sterile dirt, etc. Plants that were mostly greenery types, that were slow growing, etc. Water and seal the bottle. If too much moisture formed, then unseal and let it air out. Seal again. Soon it will balance itself out.

My moss  does not have charcoal or dirt under it. I was fixing an arrangement one day and the better half brought me this beautiful moss. I used what I needed and just couldn't throw out the rest. I remembered the jar in the window and decided to put a chunk of it down in the jar. All it had underneath was the bit of leaf litter and small bit of loam stuck to the bottom, barely a sprinkling of soil. It was so green and pretty and thinking I might put a little plastic deer or something in with it later. I kind of forgot about it, even though I looked at it every time I washed the dishes. To my surprise it started growing. So I let it be and it has been there ever since.
During Christmas I'm going to make it my goal to go find me a piece of vibrant green moss in a holler somewhere up the creek and bring it home to grow in a jar in my kitchen just like B.Ruth's.
———————-
A few weeks ago I was interviewed by Michael Borkman on his radio talk show
EXtreme Carolina
which airs on
WJRB 95.1FM
. My interview will air this weekend – Saturday December 17 and Sunday December 18 at the following times 1:30 p.m., 6:00 p.m. and 7:30 p.m. (Eastern Standard Time). You can go
here
to listen.