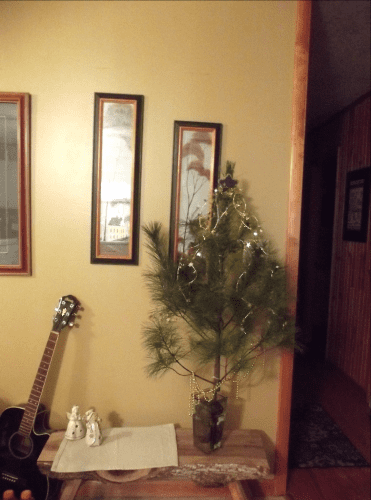 An old Christmas legend has been on my mind for the last few weeks. Maybe you've heard it too: at midnight on Christmas Eve all the barnyard animals kneel in honor of the birth of Christ.
Mostly what I've been trying to remember-is who told me the story the first time. Over the years I've heard it-and read it-but can't remember where I first heard the story. Growing up-we never had any animals other than cats and dogs-so I don't think it was Pap or Granny who told me the story. We do live near a 2,000 acre cattle farm-maybe someone told me the story in relation to the cattle that surround the roads that lead to home.
As I did a little Googling around-trying to find the origin of the old piece of folklore-I stumbled upon some other pieces related to Christmas:
If a rooster crows repeatedly at 12:00 he is crowing for Christmas
Anything made of leather during Christmas will not last
Horses talk on Old Christmas (reminds me of the first time Chatter saw a 'talking' horse on America's Funniest Videos-she said "oh Momma I didn't know horses could talk-she was so excited-I hated to tell her they really couldn't)
Water turns to blood at midnight on Old Christmas (Old Christmas is Jan 6th-according to the Old Julian Calendar)
I discovered there are many variations to the one about animals kneeling at midnight-such as: On Old Christmas animals kneel down and face the East; On Christmas Eve at midnight Cows kneel and low; At midnight on Old Christmas all horses and cows stand up and then lie down on their other side.
(I found all the folklore in Frank C. Brown's Collection of NC Folklore Part 2-you can read part of the book online by clicking on the title.)

2 sayings I've heard all my life about Christmas:
Slow as Christmas-to describe someone or something that is slow. I used it this morning to describe Chatter-when Chitter asked me what could possibly take so long to go back and get a coat. I said "you know your sister is slow as Christmas-just look at her walking to the car-see how slow she's going."
Christmas in July-said when something exciting happens during the middle of the summer-it's like Christmas in July.
Got any folklore about Christmas to share-or a saying? If you do I hope you'll leave a comment and share it with us.
Drop back by tomorrow for another reason I associate barnyard animals with Christmas-even though I never had any.
Tipper