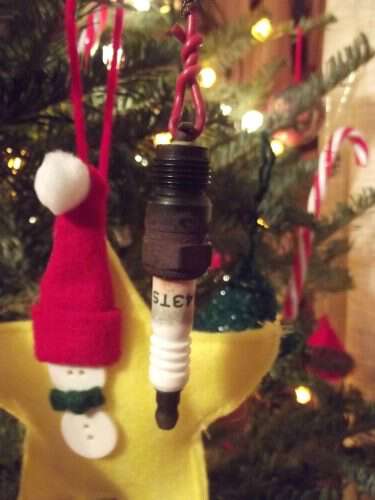 Most of my Christmas ornaments are handmade by Granny. The girls' elementary school was big on ornament making so I have more than a few that were made by them at school. Every year when I hang the girls' ornaments on the tree I wonder if the teachers who helped them knew that we'd still be loving them all these years later.
I also have store bought ornaments that have special meaning, like the silver balls with the girls names and birth date engraved on them that Miss Cindy gifted me with for their first Christmas.
I love the crocheted white stars Granny made as well as the crocheted bells of various Christmas hues she made. I also love the chubby cherubic faces of the girls on some of their school ornaments and the wobbly snowmen and reindeer they made with their little hands. Near the top of my favorite ornaments list is the spark plug ornament in the photo above.
One of the first Christmases we lived in this house The Deer Hunter sneakily made the ornament and hung it on the tree thinking I wouldn't notice the addition. But I did.
Once I told him I loved the spark plug ornament and planned to use it on every Christmas tree we ever had the surprise was on him.
The Deer Hunter making the spark plug ornament is one of my favorite Christmas memories, and all these years later I'm still putting it on the tree.
Got a favorite ornament on your tree?
Tipper