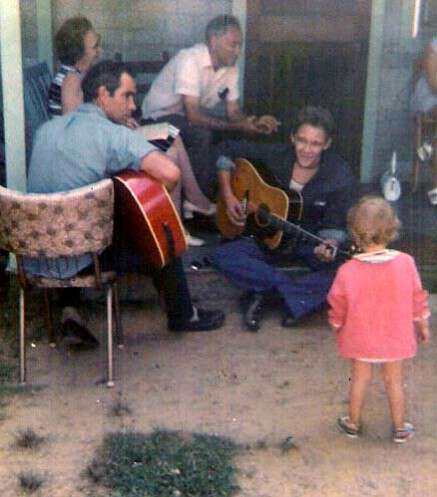 Music of one form or another has literally been the sound track to my life here in the southern mountains of Appalachia-that's no secret to anyone who's a regular reader of the Blind Pig.
I've written about it more times than I can shake the proverbial stick at-songs that make me instantly feel like a shy skinny freckle face girl standing behind Granny's legs or hiding behind Pap's shoulder as he picks out a lonesome tune.
Once Chatter and Chitter were big enough to sing I started listening to all songs with a new ear-an ear that listened to see if the song would be right for them to perform. The Nashville Bluegrass Band is one of my all time favorite bands-I mean bluegrass just doesn't get any better than those guys. They have it all-the voices-the music-the harmony-and the songs they choose are outstanding (doesn't hurt that banjo player Alan O'Bryant once told fiddle player Stewart Duncan that Chitter and Chatter were cute as bugs).
One of my favorite songs done by the Nashville Grass is the old country song Baby Blue Eyes written by Jim Eanes. And even better, the song turned out to be one the girls were willing to sing.
I've enjoyed the Nashville Grass's version of the song for years-but I totally fell in love with the song once Pap told me it was his one of his father's favorite songs.  And it only made my love for the song grow stronger when Pap said every time he heard Chatter's clear bright voice singing it-he could close his eyes and be just a boy in overalls standing in a mule plowed field on the banks of the Hiwassee River.
Give it a listen and see if you've ever heard the song.
I hope you enjoyed the song as much as I do. I like knowing that Chatter will be the 4th generation of our family with memories connected to the old song. One day she'll look back and remember those pickin' and grinnin' Sunday afternoons her and Chitter spent with their Pap, their Uncle Paul, and their Mother.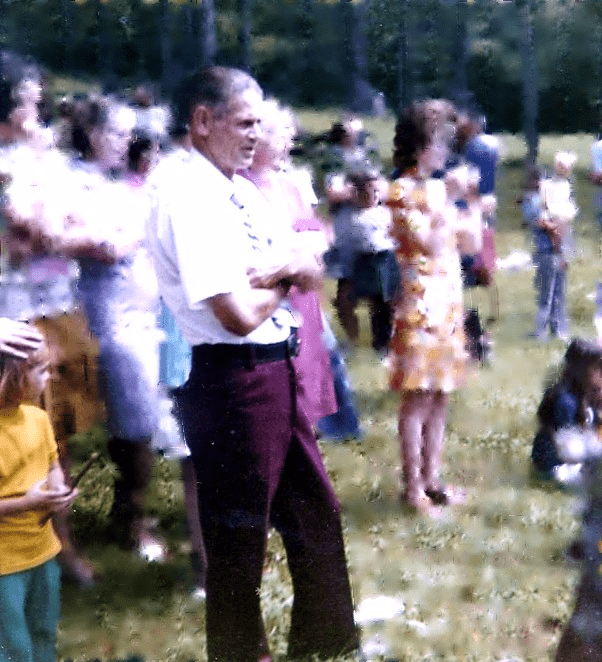 19 years ago today Pap's father-my Papaw-Reverend Wade Earl Wilson died. I cannot fathom that its been almost 20 years. He never got to see the girls-he did meet The Deer Hunter just a few months before he died. I know Chatter singing one of his favorite songs would put a smile on his face. Someday I'm going to introduce you to Papaw-let you hear his voice-let you see how his eyes sparked like fire-let him tell you about his life.
Don't worry-I haven't went off the deep end. I'm not going to try and conjure him up for you-I have a videoed interview of him and someday I'll share it with you.
Tipper
p.s. I'm the little girl in the yellow shirt behind Papaw-we were at a Baptizing-I'm thinking it was my brother Steve's.