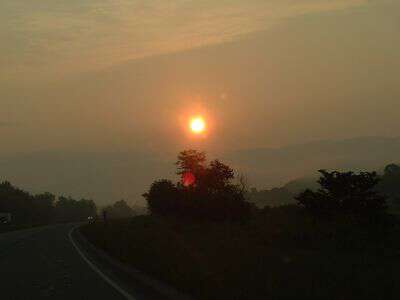 Western NC, along with other areas throughout the country, has been experiencing a record breaking heat wave this summer. The high temps recorded during the month of June broke records around the world. And for Western NC the heatwave has continued during the month of July as well.
I grew up with no air conditioning-most of the cars Pap had didn't even have it. When The Deer Hunter and I were first married and built our house it was several years before we could afford to have air conditioning installed.
Over the years of having air in the house-and in our cars-I've become what Pap calls 'soft'. Meaning I cannot take the heat!
Of course with the heat comes the colorful saying about how hot it is-you know like:
hotter than Hades
hotter than the hinges of hell
hot as a frying pan
hot enough to fry an egg
One of my favorites-
hotter than a 2 dollar pistol
Another one I like: hotter than a little red wagon (who knows what that one is supposed to mean)
We spent the last few days with Miss Cindy. While we were there the air conditioning in her car went out and worse than that the air in the house quit working. At 8 in the morning it was 86 degrees inside the house. Yes Pap is right I've become soft-with temps in the 80s inside the house-I was longing for home and my own air conditioning.
What is your favorite hotter than saying?
Tipper