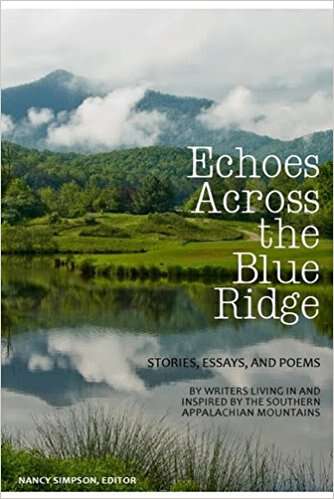 North Carolina Writers' Network West-commonly called Netwest has recently published an anthology: Echoes Across the Blue Ridge. The book is chock full of stories, essays, and poems written by writers who live in the Southern Highlands of Appalachia-or writers who have been inspired by the Southern Highlands of Appalachia.
The book was edited by Nancy Simpson who just happens to be one of my favorite writers. Some of my other favorite local writers turn up in the book  like Glenda Beall, Glenda Barrett, Brenda Kay Ledford, Marshall McClung, Sam Hoffer, and Estelle Darrow Rice.
I've read collections like this before-you never know when you combine so many different writers-so many different styles-so many different takes on the same subject if the project will fall flat or work. Without a doubt-this one works.
Once I got my copy-I sat down and read it through-most of it I read sitting on the front porch swing which was the perfect place to reminisce with the writers about days gone by. Standouts for me where-Great Granny Steeves by Karen Gilfillan, Listen To The Mockingbird by Gary Carden, and Memories of Summer by Marshall McClung.
Echoes Across the Blue Ridge is well rounded and doesn't just pay homage to the past of these mountains but draws the reader gently into the present with pieces like The Trillium by Glenda Beall. The story Glenda tells could have happened last week-even though I know it didn't. Chuggin' On The Chatuge by Shirley Uphouse gives a peek into the changes that have taken place in much of the Southern Highlands over the last 20 years and gives a dose of humor to the give and take that happens between native and non native folks.
I was pleasantly surprised to find Fontana Dam by Brenda Kay Ledford and Talking To Mama by Nancy Sales Cash-both center around people who were displaced when Fontana Lake was built. After tromping around the ruins of Proctor-I find anything related to the folks who lived in the area before the lake rose especially appealing.
Thomas Rain Crowe's Triple Negatives: Losing A Language tells his story of leaving the area in his youth and afterward-working hard to remove the taint of his mountain speech-but now he works hard to retrieve those words-those lost comforting voices he heard as a child.
I could go on and on-but by now you probably get the point-the book is a winner and if you enjoy reading about Southern Appalachia-you should get it-I know you'll be glad you did. The price is totally reasonable-$16.00 for a 200 page book of this caliber isn't bad at all. (+ shipping and handling if you order one). I'm thinking it would make a perfect Christmas or Birthday gift for that price.
Tipper
p.s. While I don't have any writing in the book-one of my photos did make it in-yay me!