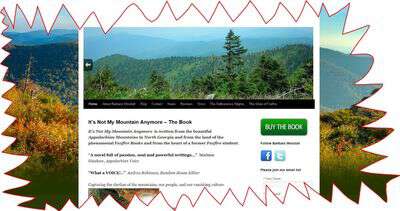 Today winds up my series on the book It's Not My Mountain Anymore which was written by Barbara Taylor Woodall. If you've been keeping up with the series-you know how much I enjoyed the book. I loved the funny heart-warming stories about Barbara's childhood days and family members-but the book also has some meat to it.
Barbara discusses what she calls the The Deliverance Stigma-an issue that is close to her heart. Time distanced me from the movie Deliverance and I never even seen it till I was grown and married. For me the space of time lessened the sting with which the movie whipped others from Appalachia. But the often sad light native Appalachians are shown in-is something that stings my eyes every time I see or read about it.
Another subject Barbara touches on is the changes that have come to our mountains during her lifetime. Major change has come in my life span as well. Some of the change has been good some bad-just like in every other part of the world. Appalachia has-is-and will always be changing.
But the goal of folks like me and Barbara-is to celebrate as much of the culture and heritage of Appalachia as we can-and even more importantly-give it to the next generation so they can value it the way we do.
Back when I tried my hand at promoting the Blind Pig in a larger way than I do now-I always thought some fancy writer would take notice of the juxtaposition of a new fangled blog discussing and sharing old time recipes-folklore-music-memories-stories-gardening with a worldwide audience. None of the folks I pointed it out too thought the fact was especially interesting-but I still think it's fascinating and amazing all at the same time. I have no interest in going back to the days of outhouses-yet I do firmly believe many of the old time ways fit perfectly in our modern day lives.
Below you can read my interview with Barbara Taylor Woodall-and if you leave a comment on this post you can be entered in the giveaway for the book It's Not My Mountain Anymore.
——————
Barbara, for years you have dedicated your life to Appalachia in one form or another-do you think it's been in vain or can you see the fruits of your labor?
One of the biggest fruits of labor is hiking with kids who remember what they learned about preservation from prior trips up the mountain sides. Don't harm the lady slippers, never litter, yellow root will help a stomach ache…they know trees by name and their use…then to see the joyous inspiration on young faces having climbed to the top is priceless to me, for the future of the mountains are in their hands. I tell them heritage is precious, without it none of us would be here.
Where can people find your book?
If they buy from the website, www.itsnotmymountainanymore.com it allows more money to bless those who preserve our traditions like, "Catch the Spirit of Appalachia" and "Foxfire". I will autograph books from the website. They are the same price as Amazon, but authors get very little from Amazon sales. Kindle editions are also available.
Do you plan to write other books?
BooKleggin' is a hard business. I might buckle down this winter. I've joked, my next book will be, "I Ain't No Preacher But…" God speaks thru nature, in fact He's "super-nature."
——————
Don't forget to leave a comment for a chance to win Barbara's book. Giveaway ends Monday November 12, 2012.
Tipper