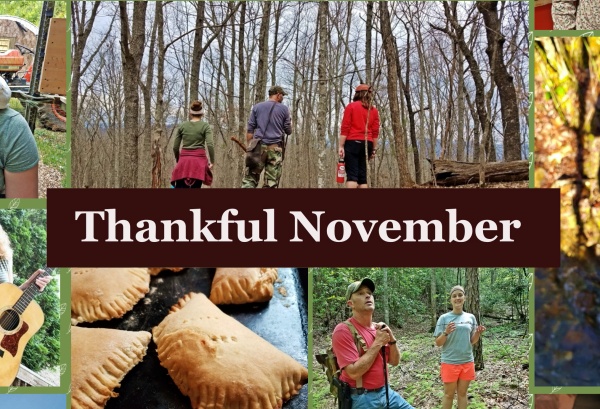 I know you're probably saying "Tipper November is over." It is over, but my series of Thankful November has a few more giveaways to share.
---
"Our independence it tempered by our basic belief in neighborliness and hospitality. Survival on the frontier sometimes required people to be hospitable, to take people in when night caught them on a journey or keep them indefinitely if their house burned down. Until recent times, neighbors joined in to help build houses and barns for those who needed them. No greater compliment could be paid a mountain family than that they were "clever folks, " meaning that they were quick to invite you to visit and generous with the food. My father told of eating at one home where the only food was sorghum and corn bread, but the host said graciously, "just reach and get anything you want."
Those receiving hospitality were expected to reciprocate. In the ballad, "Jesse James," known throughout the mountains, the most damning thing said about "that dirty little coward" Robert Ford who shot Jesse was that,
He ate of Jesse's bread, and
he slept in Jesse's bed,
Yet he laid poor Jesse in his grave.
We who were brought up on the value of hospitality will always have the urge to invite those who visit to stay for a meal or to spend the night, even though this is not the custom over much of America now, unless a formal invitation is sent out well in advance."
—Loyal Jones – "Appalachian Values"
---
This piece from Jones reminds me of a post I wrote several years back about the common sayings: come go home with me and you ought to just spend the night. (Go here to read that post).
Today's Thankful November giveaway is a used copy of "Appalachian Values." I really love the book. In my opinion Loyal Jones sums up the personality traits of Appalachians better than any other author I've ever read.
To be entered in the giveaway leave a comment on this post. *Giveaway ends December 3, 2020.
---
If you're looking for a special Christmas gift be sure to check out Chitter's Etsy Shop Stamey Creek Creations and Chatter's Etsy Shop Corie's Crotchet.
Tipper
Subscribe for FREE and get a daily dose of Appalachia in your inbox