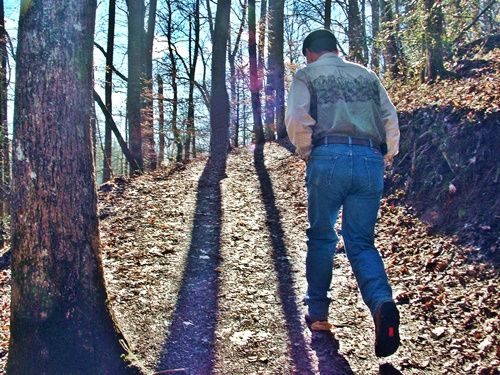 Long time Blind Pig reader and family friend Lonnie Dockery – Swain County NC
Granny used to accuse Pap of slipping off right when she needed his help. Every once in a while The Deer Hunter slips off and I have no idea where he's at. I don't ever seem to have enough time to slip off and if I did, I'm pretty sure somebody would come looking for me before I got very far.
When Chatter was about three years old she got mad and decided she'd slip off. The Deer Hunter had the garage door cracked a little for the dog. Chatter went down in that pitch black basement; crawled under the garage door; and down the hill she went. Once I started missing her I was worried to death. She knew I would be, but thought Granny and Pap would protect her from my wrath.
I used to walk part way down the hill to meet the girls when they got off the school bus. One day I quickly noticed there was three girls instead of two. A little girl they went to school with had decided she was going to come home with the girls and slipped off the bus. I knew her parents would be in a panic when she didn't get off the bus, but I didn't even know their names to call them. I got them all in the house and called the school who helped me get in touch with her grandmother.
Years back Bradley, a Blind Pig reader, left the following comment about a different type of slipping off.
"Once I had a friend that was the assistant to the top person in management. Well, this person was to retire and before he left my name was brought up in conversation. He reportedly said that I amazed him. No, he didn't find me special in any way but one. "He seems to be moderately intelligent but, I have watched him and no matter how tedious or repetitious the jobs they put on him he seems to be totally unaffected; it never bothers him."

I never told my friend how I did it. Actually, the reason it never bothered me was because I WAS NEVER THERE! I learned I could always lose myself in my own little world or just go wandering into that vague geography of the heart. Sure, I get lonesome for people and times past like everyone but, the good memories can in most cases compensate for the lonesome."
Its nice to be able to slip off and get away from things, but its downright wonderful to slip off in our mind as Bradley described.
Tipper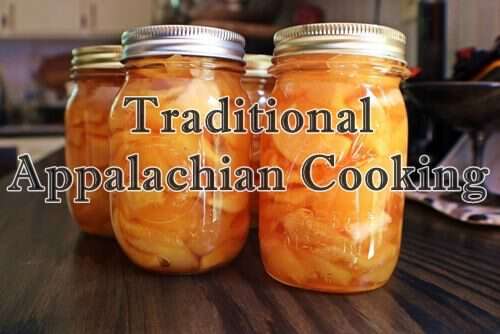 Come cook with me!
MOUNTAIN FLAVORS – TRADITIONAL APPALACHIAN COOKING
Location: John C. Campbell Folk School – Brasstown, NC
Date: Sunday, June 23 – Saturday, June 29, 2019
Instructors: Carolyn Anderson, Tipper Pressley
Experience the traditional Appalachian method of cooking, putting up, and preserving the bounty from nature's garden. Receive hands-on training to make and process a variety of jellies, jams, and pickles for winter eating. You'll also learn the importance of dessert in Appalachian culture and discover how to easily make the fanciest of traditional cakes. Completing this week of cultural foods, a day of bread making will produce biscuits and cornbread. All levels welcome.
Along with all that goodness Carolyn and I have planned a couple of field trips to allow students to see how local folks produce food for their families. The Folk School offers scholarships you can go here to find out more about them. For the rest of the class details go here.
Subscribe for FREE and get a daily dose of Appalachia in your inbox