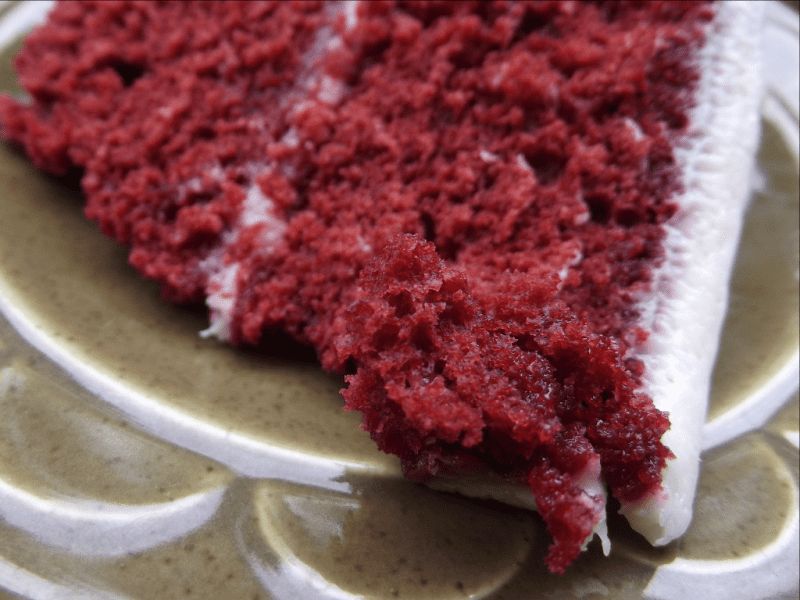 The article on The Straight Dope Website that started me on the deviled food journey had this to say about Devil's Food Cake:
"A recipe for devil's food cake first appeared in a 1902 American cookbook called Mrs. Rorer's New Cook Book (references 14, 16). However, in memoirs written in the early 1900s, a food writer named Caroline King wrote that her family was making devil's food cake in the 1880s– the Food Timeline Website reprints the original recipe and commentary if you're interested in making it yourself (references 13, 15). Since this was written some time after the fact, it's debatable whether it's the true origin.
The "devil" in devil's food most likely refers to the cake's "sinful" nature, or possibly the fact that it is quite heavy relative to angel food cake. Another possibility arises from the fact that early versions of the cake were red in color. According to Linda Stradley of "Linda's Culinary Dictionary" fame:
Devils food cake is usually thought of in terms of dark chocolate, but originally it was red. This was thought to be due to a chemical reaction between early varieties of cocoa and baking soda, which also gave the cake a soapy taste. Today cooks, using modern processed cocoa, sometimes add a touch of red food coloring to bring back the authentic color.
And in fact an alternative name for devil's food cake is "red devil's cake."
—————————————–
One of my favorite Appalachian cookbooks, More Than Moonshine written by Sidney Saylor Farr has a recipe titled Mother Farr's Red Devil's Food Cake. Sidney Saylor Farr collected the recipe from her mother-n-law, Mrs. Farr, who lived in Western NC.
Mother Farr's Red Devil's Food Cake by Sidney Saylor Farr
1/2 cup shortening
1 1/2 cup sugar
2 eggs
4 tablespoons cocoa
1 teaspoon red food coloring
4 tablespoons hot coffee
2 cups plain flour
1 teaspoon baking soda
1 teaspoon salt
1 cup buttermilk
1 teaspoon vanilla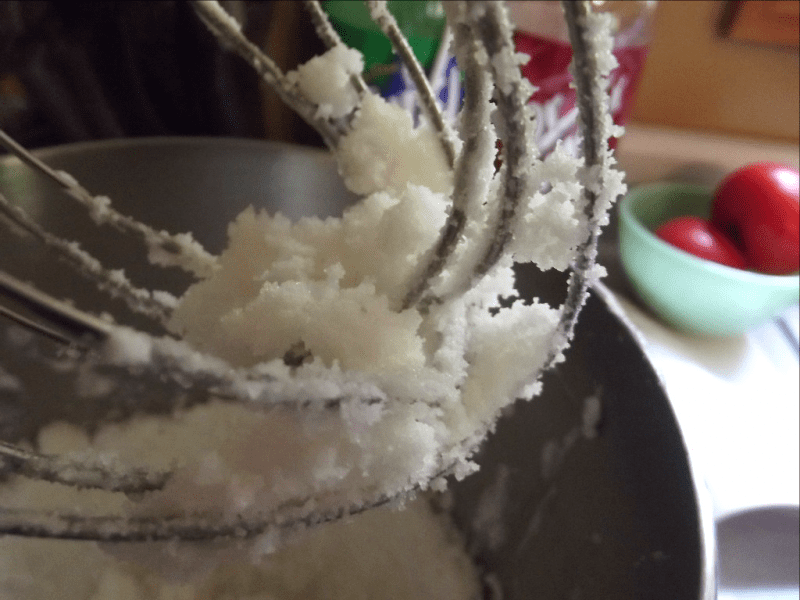 Preheat oven to 350; cream sugar and shortening thoroughly.
Add beaten eggs and mix well.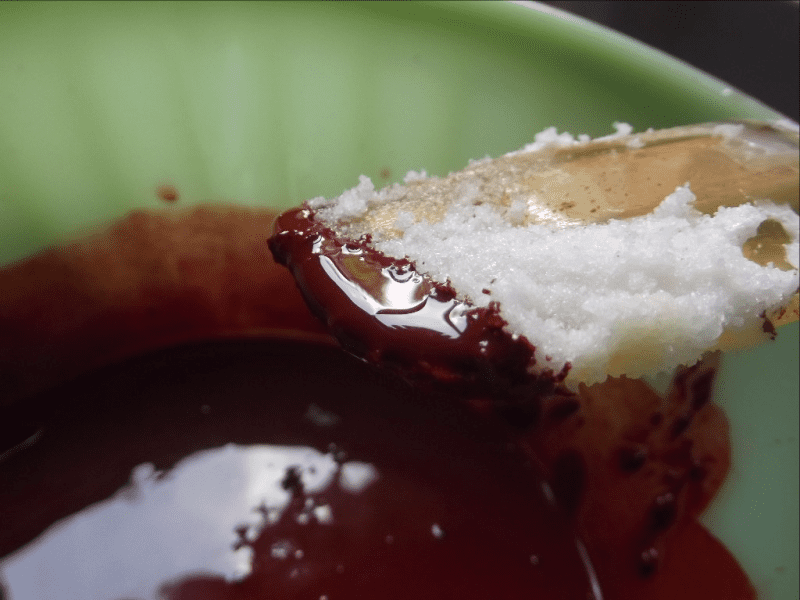 Mix together: cocoa, red food coloring, and coffee; add to sugar mixture-blend well.
Sift together: flour, baking soda and salt.
Add dry ingredients alternately with buttermilk and vanilla-mixing well.
I used two 9 inch cake pans, but you could use whatever size you wanted to. Instead of greasing and flouring the pans I lined them with parchment paper. Bake for 25 minutes-or till done. Time may vary depending on your oven and what pans you choose.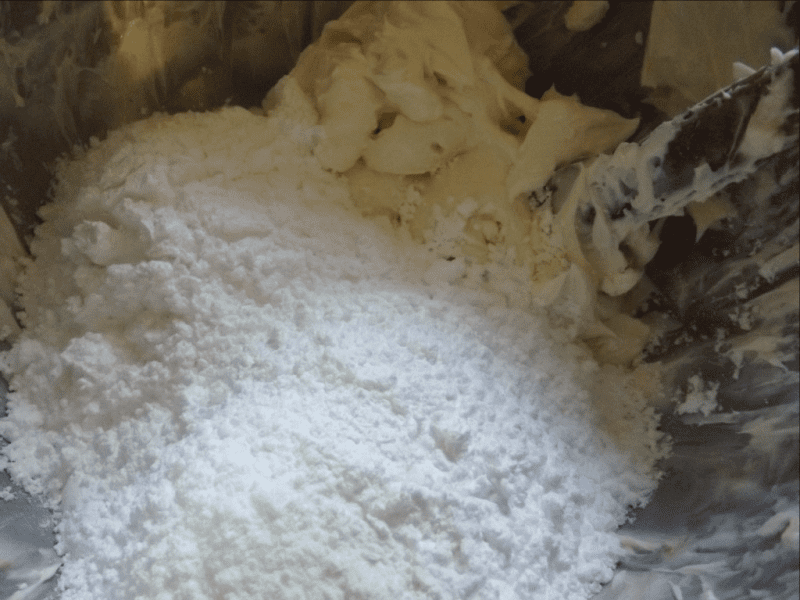 While the cake bakes, you can whip up a bowl of basic cream cheese icing. I used this recipe, which calls for two 8 oz packs of cream cheese, 1/4 cup milk, 1 stick of softened butter, 2 teaspoons vanilla, and 4 cups of powdered sugar.
Mix everything, but powdered sugar together-then gradually add powdered sugar until mixture is smooth and creamy. The icing recipe tasted great, but made way too much for my cake.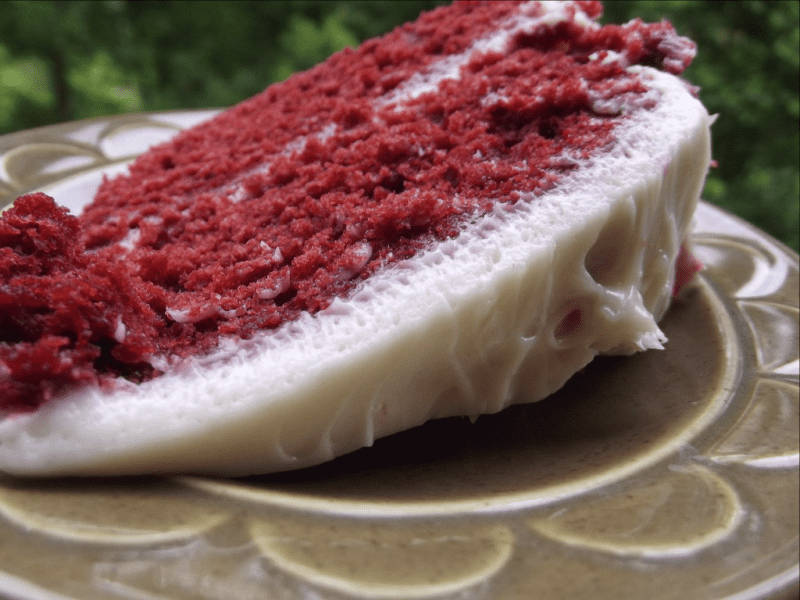 I'm going with the theory that it's called devil's food cake because it tastes so good that it's almost sinful.
Tipper
*Sources:
History of Cakes, by Linda Stradley (2004), http://whatscookingamerica.net /History/CakeHistory.htm (refernce 14)
Apicus . "The Straight Dope: What's up with "deviled" eggs, ham, etc.?." The Straight Dope – Fighting Ignorance Since 1973. N.p., n.d. Web. 19 Oct. 2013. <http://www.straightdope.com/columns/read/2182/whats-up-with-deviled-eggs-ham-etc>.
"Sidney Saylor Farr Publications." Silver Creek Writers Home. N.p., n.d. Web. 19 Oct. 2013. <http://www.silvercreekwriters.com/SidneyPublications
The Food Timeline Website (reference 13 and 16)
Victorian Cakes: A Reminiscence With Recipes, by Caroline B. King, with an introduction by Jill Gardner (1986), p. 35-6 (reference 15)