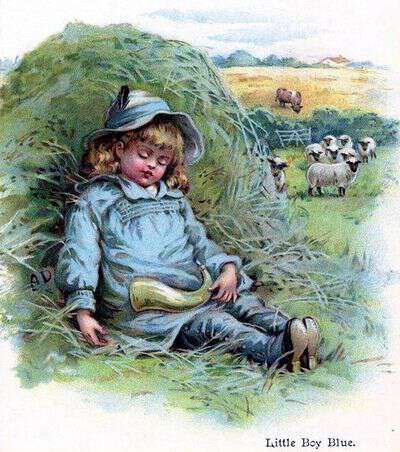 Little boy blue,
Come blow your horn,
The sheep's in the meadow,
The cow's in the corn.
But where is the boy
Who looks after the sheep?
Under the haystack,
Fast asleep,
Will you wake him?
No, not I,
For if I do
He's sure to cry.
One of our uncles used to say this rhyme to Paul when he was young. So when I hear it I think of the uncle and of Paul with a shock of blond hair falling into his big brown eyes.
The rhyme could be used to describe anyone who isn't doing their job or that has left their watch unattended. According to the book Heavy Words Lightly Thrown The Reason Behind The Rhyme written by Christ Roberts, the rhyme details Charles II and the good life he lead during his exile from Britain. While Charles II was 'under the haystack' troubles 'sheep in the meadow and cows in the corn' were plaguing his country.
From the book:
"The rhyme is a lament by the remaining Royalists that the country was in disarray, lacking a king to lead it (no Leviathan figure, for those familiar with Hobbe's philosophy). Even these Cavaliers, however are critical of Charles, as the final lines contain a suggestion that he might lack a certain moral fiber and should be more vigorous in reclaiming the throne."
Do you remember Little Boy Blue?
Tipper
*Source: Roberts, Chris. Heavy words lightly thrown: the reason behind the rhyme. Large print ed. Waterville, Me.: Thorndike Press, 2006. Print.