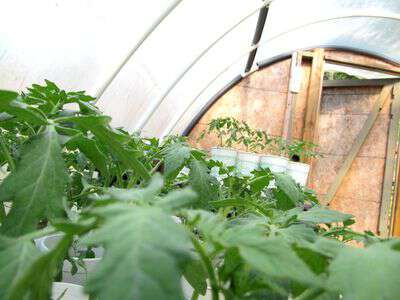 Our garden is coming right along. The tomatoes and peppers in the greenhouse seem to be growing an inch every night. It always seems to take forever for them to germinate and get their first real leaves but from then on they grow by leaps and bounds.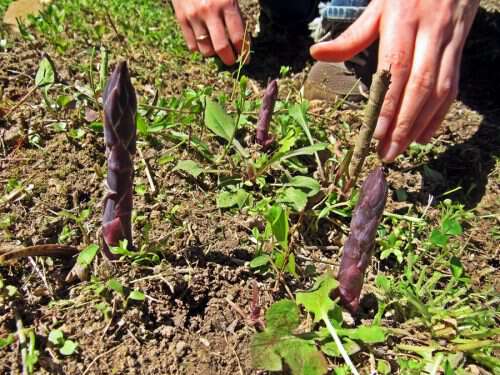 My purple asparagus is spearing its way through the earth and my is it tasty!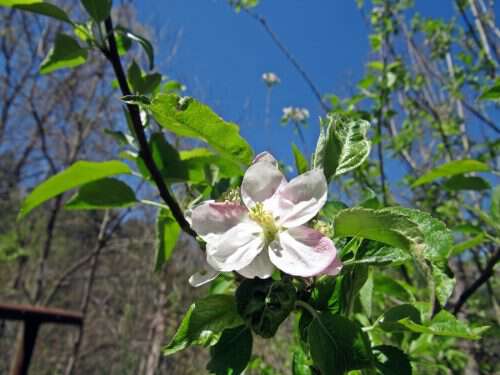 My apple trees are blooming and their sweet smell is perfuming the backyard. We've only had our grapevines a couple of years, but they are looking great! Maybe this is the year I'll finally get a few grapes.

You may remember we used a few of our old mushroom logs to build a new bed in the backyard. Apparently the mushroom logs like their new location. I've been gathering mushrooms from them. I guess they showed me they weren't quite through after all.
One row of my Sow True Seed Radishes didn't come up. I planted the bare spot with more green onions. Chatter got most of her herb/medicinal seed planted in the greenhouse and they have sprouted.
A few days before Pap passed away he felt like getting out in the garden for a while. He discovered something had eaten most of his cabbages. He thought it was a deer that's been hanging around, but The Deer Hunter said it was likely a groundhog since there was more damage than rabbits usually do but no deer sign. I checked on Pap's little garden today and the cabbage seem to be making a come back so maybe Granny will be able to make kraut this summer.
Please tell me how your garden is doing.
Tipper