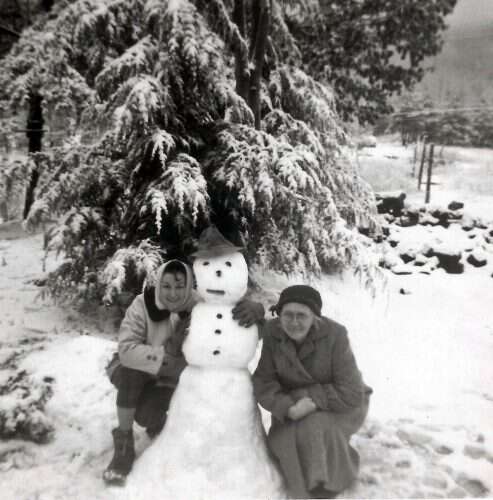 Christmas gift, Christmas give interjection
1 Merry Christmas!
1936 LAMSAS (Madison Co NC, Swain Co NC).
1972-73 Pederson et al. LAGS Christmas gift (Cocke Co TN, Sevier Co TN); Christmas give (Blount Co TN, Cocke Co TN, Jefferson Co TN, Sevier Co TN).
2 Merry Christmas! in a Christmas day ritual: usu the first person to say this is owed a token gift from  the person greeted; hence as noun = this ritual. See esp 1942, 1981 citations.
1942 Thomas Blue Ridge 159 The young folks of the community go from home to home, bursting in with a cheery "Christmas gift!" Those who have been taken unaware, though it happens the same way each year, forgetting, in the pleasant excitement of the occasion, to cry the greeting first, must pay a forfeit of something good to eat-cake, homemade taffy, popcorn, apples, nuts, 1973 GSMNP – 61:8 If you could sneak up so we were out before daylight and if you could get Christmas gift on them, they had to give you something, which was usually apples or stick candy. 1981 Brewer Wonderment 34 If you said "Christmas gift" to somebody on Christmas morning before they said it to you, they had to give you a present before the end of the day. 1986 Ogle Lucinda 44 When we got Christmas gift on her she would pass a plate of sweetbread and a box of mixed peppermint and hore-hound candy around to us.
~Dictionary of Smoky Mountain English
———————–
Granny's family, the Jenkins, played the Christmas gift game. Anyone who came in the door at Granny Gazzie's on Christmas Day got a hearty 'Christmas gift' from at least one person. I remember Granny calling her sister Jean early early on Christmas morning trying to get her Christmas gift in first. Sometimes she beat Aunt Jean to the punch and sometimes Aunt Jean beat her!
Although they all greatly enjoyed the game I don't recall them giving the winner a gift. It seemed to be more about the fun and spirit of the day.
Have you ever heard of the game?
Tipper