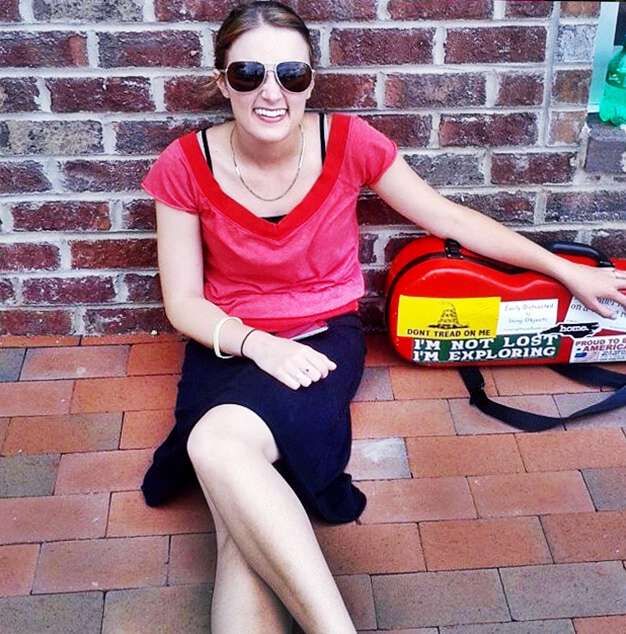 The girls have been singing the song Crazy Arms since about 2012.  It was great with just the girls, but once Paul added a third harmony part somewhere along the way it has become one of the most requested songs we perform.
The song was written by Ralph Mooney and Charles Seals. Ray Price had a super hit with the song in 1956.
Years ago, before I was even married, I bought Paul a VHS tape of old Louisiana Hayride performances for Christmas. We watched that thing until we about wore it out. So many good performers were included on the tape. Lonzo and Oscar were two of Pap's favorites. He'd laugh at their jokes and then point out how super talented they were as musicians and vocalists.
It would be hard for me to pick a favorite from the tape, but I especially liked Ray Price doing Crazy Arms. I swooned every time I watched Van Howard step into the frame and add his layer of harmony to the song.
Chitter is a funny girl, if you've ever seen us perform or met her in person you're well aware of that already. The girl was funny from the day she was born. When she was about 3 years old she started telling anyone who'd listen that she had a pet frog that lived in her throat and then she'd try to prove it was true by making a frog sound.
We never know what Chitter will say at a show, I swear sometimes I think she surprises herself by the things she tells the audience. At our show Friday night they asked us to make a few announcements during our set. Chitter turned those announcements into a comedy act. One group of folks actually asked her to make the announcements again.
A year or so ago we were playing at a festival and before we played Crazy Arms she told the crowd how much she loved Ray Price and his music. As she held two fingers crossed in the air she went on to tell them if she'd lived back when he was making all those hit records she had no doubt her and Ray would have been close-as in best buddies. Chitter can be pretty charming so I don't doubt Ray Price would have liked her if they'd ever met.
Here's a video of Crazy Arms from our concert at the John C. Campbell Folk School a few weeks ago.
I hope you enjoyed the song. I may share other songs from the concert in future posts, but if you'd like to see the whole concert now go here. The Deer Hunter filmed it for us. I wish he'd gotten Chitter's talking between the songs too, because her comedic flare was really going strong that night.
Tipper