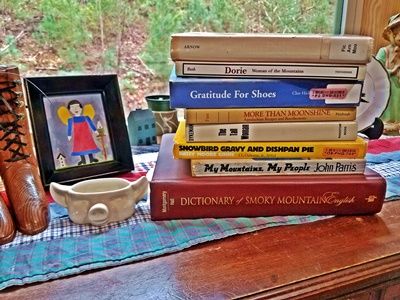 I hear voices telling me its important to preserve the culture and heritage of my people.
Sometimes the voice jumps off the page of a book I'm reading. The "Dictionary of Smoky Mountain English" is full of voices: young, old, male, and female, all with the same urgency encouraging me to continue my endeavor so that their memories might live on at least in the language of Appalachia.
Michael Montgomery, the compiler and author of the dictionary, has a voice that echoes in my ear as well. He sends me eloquent emails to aid and encourage my work.
Sometimes the voice comes to me in the hazy murky realm of dreams. One morning last week there was a tall strong man standing by an entry way in one of my dreams. For a moment I thought it was my Uncle Lucky. As I came closer to him he said "You're getting there, but there's work yet to be done. You got to keep up your work for Appalachia even if you are tired." In the quirky way of dreams I never even stopped to talk to the man. I continued on my way out the door thinking to myself "Well that wasn't Uncle Lucky, but whoever he was he had a mighty powerful thing to say to me."
Voices come through loud and clear in the old songs I hear—in the songs we play to keep alive.
The Blind Pig and The Acorn is filled with voices encouraging me to continue. If you're reading this—you are one of the voices I hear.
Oftentimes I hear the voices as I go about my daily life.
Not too long ago I was talking to a banjo instructor at the Folk School. He's only slightly older than I am and we were joking about how we're becoming the elders. Our conversation quickly turned serious as we both agreed we had to work hard to pass the language, the music, the culture of Appalachia on to the next generation. It's our job, just like it was our elders job to ensure our generation was educated about their homeland.
Yes, I hear voices telling me its important to preserve the culture and heritage of my people.
Tipper
Subscribe for FREE and get a daily dose of Appalachia in your inbox