Today's guest post was written by Charles Fletcher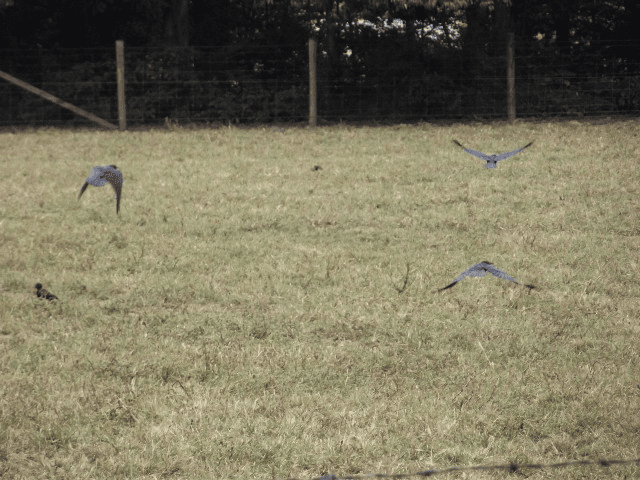 Crows in flight
"Old Jim The Pet Crow" by Charles Fletcher
I had a pet crow when I was about ten years old. I found the crow under a big pine tree hollering his head off. There were about ten crows trying to rescue him. The baby had fallen from its nest during a wind storm.
It was a little risky getting him with all the big crows nose diving me. Just the same I got him to safety. I took him home and named him Jim.
He was so small I had to feed him by dropping food in his mouth for a few days. But crows are smart and he quickly learned how to feed himself.
I had to show Old Jim off to my Grandpa Pressley so off to his house I went. Grandpa told me he had a pet crow when he was a young boy too. He told me if I split Jim's tongue he could talk. I never did this, but I did clip the feathers off one of his wings. This kept him from flying. He would attempt to fly, but was off balance and couldn't get airborne.
It wasn't long before my Mother began complaining about loosing things. It was always something shinny like small spoons or thimbles from her sewing basket. It seemed Old Jim loved shinny things.
Jim was soon as large as all the other crows that came by trying to get him to fly away with them. I quit trimming his wings and one day he flew up and joined the flock. For a few days he would come visit me when he was hungry and wanted a handout. Finally the day came, when Old Jim joined his friends and never returned to me again.
My Mother was  house cleaning when she solved the mystery of the missing items from around the house. Old Jim had a secret corner in the closet where he hid his loot.
I never had another pet crow but enjoyed Old Jim. He was a very smart cookie.
—-
Hope you enjoyed Charles's memories as much as I did!
Tipper
Subscribe for FREE and get a daily dose of Appalachia in your inbox