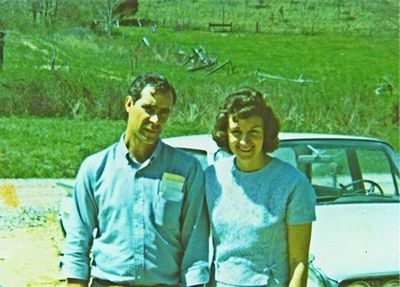 Pap and Granny – Wilson Holler 1964
On my recent post Slipping Off, Shirl left a comment about slipping off to get married. It reminded me of the way Pap and Granny got married back in the day.
Granny said they really weren't planning to slip off to get married, but that's exactly what they ended up doing.
Granny and Pap had been dating three months and decided it was time to be married.
Granny had recently went to Blue Ridge, GA with one of her girl friends and her beau to get their marriage license, so she knew exactly where to go. One day Pap came and picked Granny up and they headed off to Blue Ridge to get their own marriage license.
After they'd secured the license Pap told Granny they ought to just go to this preacher's house he knew that was right on the way and get married right then. Granny agreed, only the preacher wasn't home. Not to be deterred on their newly formed mission, they went to another preacher's house, but he wasn't home either. Pap said we'll try one more place and if he's not there we'll wait till another time.
They stopped at Henry Owenby's house. Henry said he'd marry them. They need two witnesses. Lucky for Granny and Pap, Henry's wife Virginia, and her sister Bertha, agreed to stand witness to their marriage.
The hard part came next. Telling Granny's parents.
Granny said "I was scared to death to tell mamma so I told daddy and told him he'd have to tell her. Mamma was on the porch doing the washing when he told her and boy was she mad. She pitched a fit and got so red faced that I was afraid she was going to have a heart attack. She gave Jerry a good talking to, but she soon found out marrying Jerry was the best thing I ever did even if we did slip off to do it. Why later on, mamma liked Jerry better than she did me. "
Hard to believe they only dated three months and ended up with a marriage that lasted over 50 years. Pap died just shy of their 52nd Anniversary.
Tipper
Subscribe for FREE and get a daily dose of Appalachia in your inbox