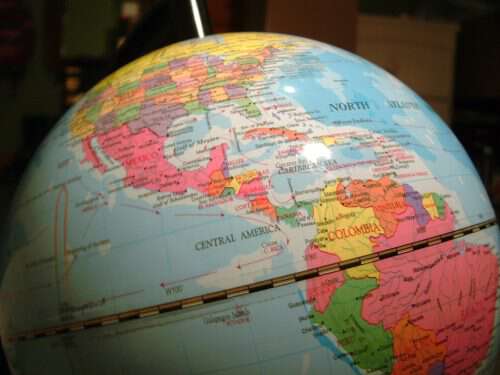 Is the world getting smaller? Sometimes I think it is. When Guitar Man came home for Thanksgiving-he had tons of new things to share with us about his first semester at Yale-every thing from his studies to how many times he swung by the cafeteria each day-and what he ate while he was there.
As he talked, I started thinking about how we'd missed him-how we all worried cause he'd never been so far away from home-and now here he was back at home telling us about that distant place and making it seem like it was just down the road a ways.
Pap has often told me-one of the biggest differences between now and when he was a child is the speed at which news travels. When he was a child, they might get news of a great earthquake in China several weeks after it happened. With today's warp speed-you'll know about a large or small earthquake anywhere on the face of the Earth-very soon after it happens-usually within minutes.
And why shouldn't news travel fast-you can hop on a plane and fly across the US in hours. Even the 2 hour trip it takes to drive from Brasstown to Asheville is drastically reduced from the hours it took when Pap first went off to service. Along with the ease of spreading news-came the ease of education. Folks today-can sit in their living rooms and take classes over the net-I know I'm pointing out the obvious-but again very different from the days of Pap's education-when many folks didn't even finish high school.
But every once in a while something happens that makes me question the size of the world and all it's connections.
Do you ever click links and end up somewhere you didn't expect to be? Today as I clicked I thought I was hopping along to find some info about a future post-that wasn't the case. What I did find-was a long long list of comments-mostly folks arguing back and forth. What were they arguing over? People like me.
One side (by far the largest side) was saying every person who lived in the South was not only banjo picking inbreds-they were racist too. The other side was arguing you can't paint such a large swath of people with such a broad brush-while there is some of that 'inbred racist' stuff-not everyone is like that.
I know those feelings are out there-but to see the sterotypes bandied around with such authority was an eyeopener-especially since the comments were recent-as in last week. I don't remember the name of the site-I'm not sure I even noticed it-but I did gather these 20 or so folks doing the commenting were supposed to be College Educated-or as Pap would say book learned-people. There was no foul language-no vulgarity (other than the inbred racist stuff)-just a bunch of people declaring with certainty I am a racist who isn't very intelligent because I live in Southern Appalachia.
One of the ring leaders said hey don't get her wrong there is some great things about that area and those people-but the truth is the truth-they are racist and not as bright as the rest of the US due to their lack of education. Lordy Lordy, I know the comments are unfounded and false-and Pap taught me and my brothers to shake the dirt from our sandals and move on at an early age. Yet I can't keep from thinking about the days when news moved so slowly that some people still believed the world was flat. I wonder how people can accuse us of being close minded and unlearned when they don't even know of the wealth of goodness that resides here within the people themselves.
Tipper