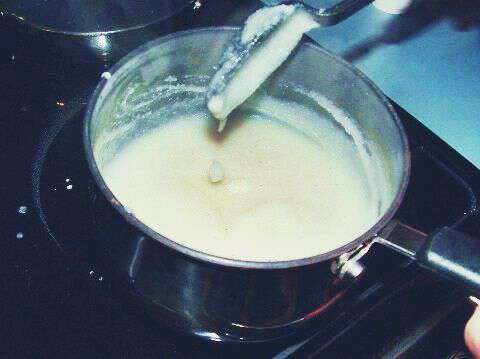 Pap told me his family often had cornmeal mush for breakfast, and sometimes they had it for supper too. His mother would pour leftover mush into a pan or other container and let it set up. For supper she'd slice the pieces of mush and fry it in grease. They poured sorghum syrup over it much like you'd eat pancakes. Cornmeal was readily available to folks like Pap's family who grew their own corn for making meal as well as to feed their animals.
The Deer Hunter's Aunt Wanda still makes cornmeal mush. She said she ate it often when she was a girl and that it's become one of her favorite comfort foods since it reminds her of childhood.
Anyone who has made grits or oatmeal already has the process of making cornmeal mush down pat. Aunt Wanda said in the old days folks would sift the cornmeal before cooking to get the larger pieces out.
Cornmeal Mush
Bring 2 cups of water to a boil
Add a pinch of salt
Pour 1 cup of cornmeal into the boiling water while stirring the mixture
Continue cooking until thick
Add butter, sugar, syrup or whatever pleases you to the mush
Tipper
Subscribe for FREE and get a daily dose of Appalachia in your inbox