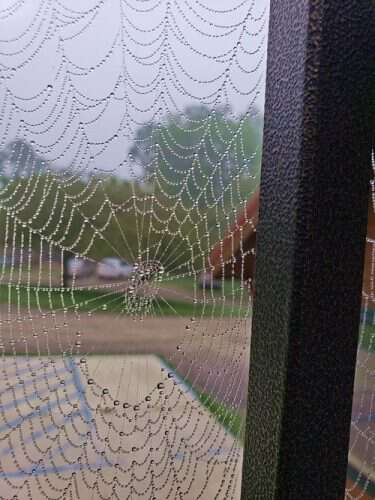 I've never seen the like of spider webs as I have this year. Seems like every step I make inside or outside I run into a spider web. I walk outside in the morning: spider web; walk in the garden to gather veggies: spider web; walk in the chicken coop to feed them: spider web; go out on the porch: spider web; walk in the office at work in the morning: spider web. They are everywhere!
I'm wondering if the amount of spider webs is foretelling a cold snowy winter…but I've never heard that folklore before.
Here is some spider folklore I have heard:
Spider webs were used to stop bleeding back in the day, and are still used by folks when there's nothing else handy. I once read spiders were being used to ward off fevers as early as 1681-you can read about it here.
This time of the year writing spiders are busy weaving their webs on all the eaves of our house. An old wives tales says the person's name the spider 'writes' will soon die. Another one advises you should never speak someone's name near a writing spider because you might give them the idea for their next web and hasten the person's passing.
Here's some more folklore about spiders:
If you wish to thrive leave spiders alive
If you get too close to a spider-and it counts your teeth-you'll die (seems whoever came up with this one was really afraid of spiders)
If you see a spider on your clothes it means good luck (maybe I shouldn't have run from all those spiders as a kid)
You should go around a spider's web because if you tear it down you'll for sure have bad luck (well I'm in for a string of bad luck this year!)
Eat a wadded up spider web to relieve asthma
Stuff a spider web down into a cavity to ease a tooth ache
If the winter turns out to be especially bad, I'm going to start my own folklore: the more spider webs you run into in August and September the worse winter you'll have.
Tipper
Subscribe for FREE and get a daily dose of Appalachia in your inbox