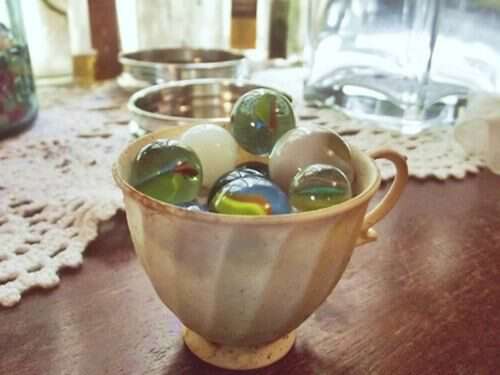 I've always loved marbles, not necessary to play with, just to hold in my hand and look at. I remember when I was in the second or third grade playing marbles was popular with the older boys.
During that time, my older brother, Steve, acquired a whole collection of marbles. He had the regular sized ones and the big marbles that he called dough rollers. Steve was particular with his stuff and didn't like Paul and me prowling through his things, but I took advantage of the times he wasn't home to look at his marble collection and marvel at the pretty swirly colors.
Chatter and Chitter collected marbles for a while and even as an adult I was still mesmerized by their pretty colors. Once the girls decided they were too big for marbles they shot them off the front porch with their sling shots. You can find marbles all over the place around our house from their sling shot ammunition. Whenever I find a marble in the yard I put it in my pocket and take it back to the porch and put it in a container. Maybe someday I'll get them all back.
Ed Ammons shared a marble game called Jack in the Bush with me a few years back. He wrote up the game as if Chatter and Chitter were playing it:
Jack in the Bush
A game for two players, played with marbles or pennies. To start each player takes an equal number of pieces and hide them from the other's view. The first player takes out a number of pieces and holding them in her cupped hands says:
Chitter "Jack in the Bush!"
Chatter "Cut him down!"
Chitter "How many licks?"
Chatter "Shake 'em up!"
Chitter then shakes the pieces inside her hands so that Chatter can hear them. Chatter listens to the pieces and guesses how many there are. If she gets it right, she gets all the pieces. If she guesses wrong she must give Chitter the difference between what she guesses and the actual count. If she guesses 5 and there are 8 then she must give up 3 pieces. Then Chatter takes her turn"
Chatter "Jack in the Bush!"
Chitter "Cut him down!"
Chatter "How many licks?"
Chitter  "Shake 'em up!"
This goes on, back and forth, until one player has all the pieces and the other has "lost her marbles."
—-
Blind Pig reader Tim Ryan had this to say about playing marbles:
In southern Kentucky where I was raised rolley hole was the main marble game. It was played with flint or agate marbles ground to a sphere by hand with a bench grinder. The court was large ….. maybe 20×50′ I forget. Both old men and boys played together. They have a national tournament in a state park there. I still have my set of marbles made from flint. Look it up!
—-
Blind Pig reader B. Ruth shared this memory of marble playing with her brothers:
Here is how it started. First you have two brothers, the closes girl friend lived way down the road. Sittin' around with nothin' to do…a few kids would show up, of course boys from up the road. Someone would say, "Did you bring your marbles? Well, let's play, another would shout. No Steelies or Doughrollers in the first game! When agreed, someone would yell, keepers or no keepers…Or keepsies.We went to the ground closest to the house that was bare. If a thick layer of dust and dirt had covered up the area, then I (girl) was sent to the house for the broom! The area was swept to relieve it of fallen twigs, extra dirt and pebbles. A strong broken limb..(or if Mother didn't catch us) the end of the broom was used to draw the circle…"Biggin' Littlin" was called..the most votes were to decide the size of the circle…I could see this was goin' to be a serious game…The tough guys had some tough marbles…Thumbs with callus's and knees that looked callused as well…I didn't get to play in those games…The fun began, and my brothers would win a few and loose a few..Some special marbles were cherished, that were hard to come by. Agates, solid in swirled colors, not many transparent marbles…some very good cats eyes and occasional marble with the figure inside…You don't know how bad I would love to go back to that place and dig around for old forty, fifty marbles…but alas it has been covered with blacktop…I have some marbles in a old milk jar in my kitchen window. Agates are hard to find for me. I did find a steelie a few years ago..and remembered the tough guy that always wanted to use the steelie!
—-
You can go here to see how to play marbles a whole bunch of different ways.
Tipper
p.s. Upcoming performances by The Pressley Girls
TODAY -September 8, 2018 @ 12:00 p.m. Cherokee County Indian Community Center Festival – Marble NC
September 22, 2018 @ 8:00 p.m. Unicoi State Park – Helen GA
Subscribe for FREE and get a daily dose of Appalachia in your inbox