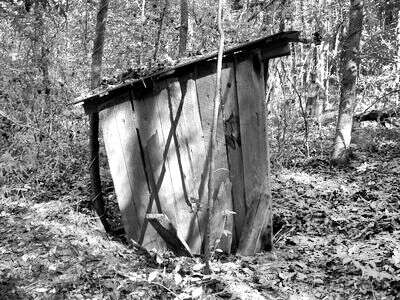 Old outhouse down the road a ways
I only used a real outhouse one time that I can remember. I was about five years old and was with Pap on a trip to a nearby country store. Pap was taking forever talking to somebody and I wanted to go home because I had to go to the bathroom. I kept whining about needing to go to the bathroom until Pap sent me to the store's facilities-which was an outhouse. After visiting the outhouse I wished I had pestered Pap about having to go.
My friend Matthew Burns has a clear perspective about growing up with an outhouse:
"During a recent discussion with a group of Appalachian enthusiasts, nostalgia for the outhouse ran rampant. Speaking for hours on the noble privy and needed efforts to preserve the humble structure, it was obvious that most of these folks had never thought of the outhouse on any terms other than aesthetics. I felt otherwise. My family lacked running water until the spring of 1988, and I was perhaps the only person in this discussion who truly remembers the outhouse for its practical purpose. As such, I hold an entirely different perspective on the topic.
I vividly recall as a child answering the call of nature in the middle of many blistery nights and returning back indoors with both sets of my cheeks rosy red. I don't ever remember anyone "relaxing" in the family privy during the winter months. There certainly wasn't anyone who took time to read the local classified ads during his or her morning constitutional. I'm sure these wintry trips to the privy were the basis for the old adage "blue-ass cold". The summer months were not much better due to the inevitable swarms of biting insects and flies that inhabited the privy. An occasional snake was not unusual. This was the everyday reality of life with a privy. I believe with every fiber of my being that this was the rule, not the exception.
I've been in outhouses of all sizes (one-holers, two-holers and even a three-holer at one point), and they were all pretty much the same regardless of the care given to them. Some were in worse condition than others to be sure, especially the ones that weren't kept clean and the older ones that brought more fear than relief. My grandparents' outhouse was so old that the floor gave under my weight when I was still quite young. It would have probably been safer for an adult to slip out into the nearby bushes. My parents outhouse was kept immaculately clean and hydrated lime was put in the hole on a weekly basis to keep down the stench and to prevent it from filling up. Even with the constant cleaning it was still far from pleasant by today's standards.
My wife is always telling people that I am the "oldest" young person that she knows, and my childhood in the 1980's is more akin to her mother's childhood from the 1940's. She finds it odd that a person my age in this day and time can still remember when they first got electricity, a telephone, running water and an indoor toilet. While I miss many things about growing up on the mountain, such as the farm itself, the livestock and all the family close-by, I certainly don't miss the old outhouse. It is but a dim, malodorous memory in the faded recesses of my mind."
—-
In the 1960's Billy Edd Wheeler wrote a satirical song, "Ode to the Little Brown Shack Out Back," about losing a beloved outhouse.
I ask Granny if she had any outhouse stories for me. Granny said she didn't care to remember any outhouse stories at all! Even though I dream of days gone by and all the knowledge and goodness they hold, I don't think I missed out on anything by growing up with indoor plumbing.
I hope you enjoyed the song.
Tipper
Subscribe for FREE and get a daily dose of Appalachia in your inbox