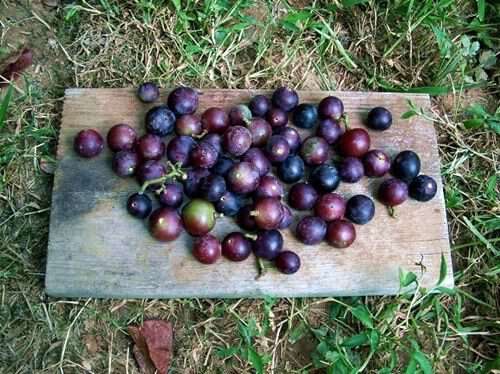 Fox Grape Bonanza on the Blue Ridge Divide
In 1947, we moved into the Steer Creek area near the Blue Ridge Divide. The following year the fox grapes hit. All the grape vines up and down that creek were hanging big, full of wild fox grapes. The old lady and all of 'em we picked grapes up and down that creek. We made jelly out of 'em. I fooled around one day and picked eleven bushels! I made thirty—six gallons of wine out of it…Back then, the fox grapes—out in the field of alders—could be counted on to produce a big grape haul every four or five years. But today, all the wild fox grapes are gone from that territory (in north Georgia). The muscadines are still there, but the fox grapes have disappeared.
—Curtis Underwood, Resaca, Georgia – "Smokehouse Ham, Spoon Bread & Scuppernong Wine"
—-
Lucky for us the fox grapes are still going strong along the Stamey Branch.
As a boy, Pap, helped his grandmother gather fox grapes each year. He'd climb the trees to reach grapes that couldn't be gathered from the ground. Pap said they used tow-sacks to carry the grapes, because buckets were hard to come by. His mother and grandmother canned the grape juice and sometimes whole grapes to use during the winter months. They also made jelly and jam from the grapes.
On one grape gathering expedition Pap lost his prize possession. He fell out of one of the trees, landed in the rocky creek bed, and broke his pocket watch. He said he was proud of the watch and was so disappointed when he fell and broke it. His Uncle Wayne tried to fix it, but never managed to. Pap said he never did get another pocket-watch, but he continued to help his mother and grandmother gather grapes every year and later on he helped Granny and me do the same.
Tipper
Subscribe for FREE and get a daily dose of Appalachia in your inbox