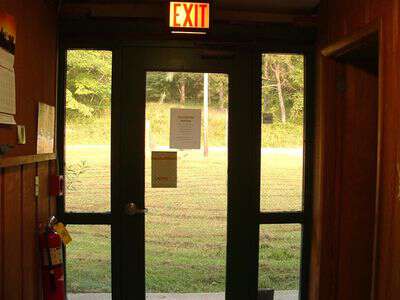 Do you have community centers where you live? We do here-actually there are 2 in my neck of the woods-Brasstown Community Center and Martins Creek Community Center.
Over the years for some reason it seems Martins Creek's Community Center has played a larger role in our lives. Maybe because it's been there longer-most certainly because we all went to school at Martins Creek Elementary School-which used to sit directly in front of the center.
For the last several years Pap has been MC of the community center's monthly Saturday night gospel singings, which feature music groups from throughout the area. There is no admission fee-however they do sell hotdogs, hamburgers, and the best banana pudding you ever put in your mouth. They only hold the singings in the summer months-and the money they raise from concessions helps pay the light bill for the center along with other small needs that arise.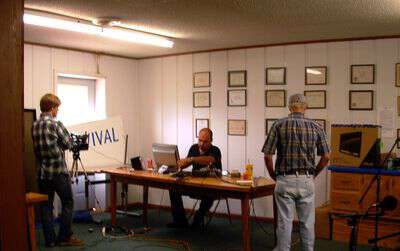 Some of you may remember our recording day-from last summer? Well the Martins Creek Community Center is where the Blind Pig Gang was ensconced on that hot July day. In between recording adjustments I noticed a shelf of photo albums and scrap books compiled by folks who've volunteered at the community center over the years. I told the girls "Lets see how many people we recognize" as I pulled one of the bigger ones down and began to leaf through the pages.
I figured I'd see a few pictures of a younger Pap-from where he'd sung at the community center over the years. To my total surprise I saw me. I saw a timeline of my growing up years.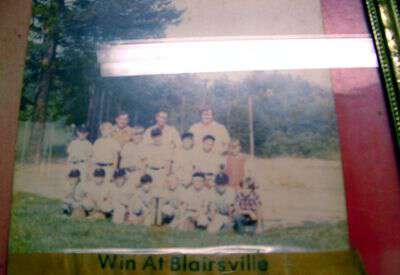 There were indeed pictures of Pap pickin and grinnin. And there were photos of the rag tag baseball teams Pap, Jim Williams, Max Roberson, Jim Mulkey, and Jerry Ledford coached through the years. Memories of those days came flying back at me. While Steve or Paul was on the baseball field I was playing with the other kids nearby. I remembered all those older boys who were Steve's buddies-especially the ones I had a secret crush on-and I thought of the boys who till this day wear the moniker given to them by Pap-Bluebird, Rooster, Lead Foot, Cutie Pie, Mud Turtle, and Pickle to name a few.
I saw photos of my best friend Tracy and her brother Doug standing at the old Martins Creek School amid a parking lot full of 70 era cars-the scene looked so real I felt like I could reach out and touch Tracy's rosy cheeks-somebody had a good camera.
I saw faded photos of elders from our community who have long since gone-but whose influence still remains in the minds of those who remember them.
And there were literal pictures of me too-pictures I didn't even know existed. Me at 4H club-me sitting in the stands at ball games-me in my ball uniform.
Who knew my history was sitting on a shelf less than 2 miles away from me all these years? Actually it was a pretty cool thing to discover.
—————
This Saturday-February 25th 2012-The Martins Creek Community Center will be hosting a Jamboree. It starts at 7:00am and there'll be:
Muffins and coffee for sell during breakfast hours-if you live in the area-stop by and pick up something to eat before you start your day
A silent auction-with winners announced at 3:00pm-I hear they have some really good items-including a cornmeal grindstone
A country store with a variety of items
Several vendors will have booths set up with various items for sell
During lunch and throughout the afternoon-hotdog and hamburger plates will be sold-hotdog plates for $4.00 and hamburger plates for $5.00-both come with chips, a dessert, and a drink-if you live in the area please stop by for a bite of dinner or supper or both
Chances on a $100 gift certificate for Save Alot will be available for purchase
Begining around 12:00pm there will be live music provided from several local bands including the Blind Pig Gang
The community center is hosting the Jamboree in an effort to raise money to update their heating and cooling system. They are still accepting donations for the country store, silent auction as well as monetary donations.
—————
Be sure to leave me a comment and tell me about the community centers in your area.
Tipper