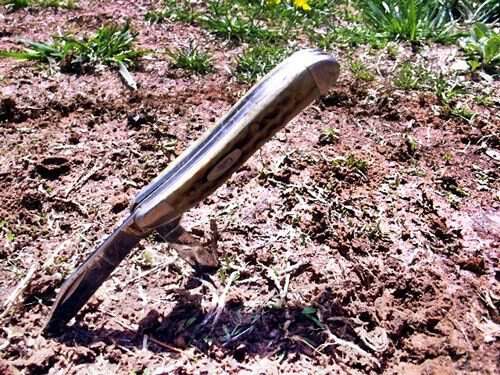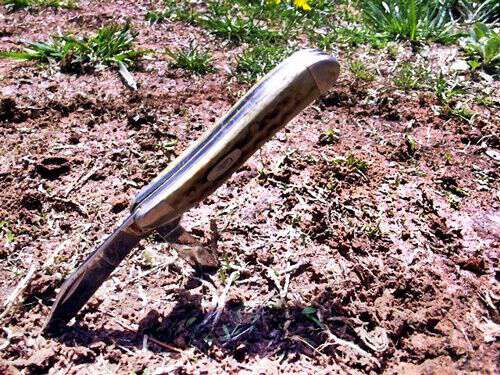 Mumbly peg is a game I've seen boys and sometimes men play during my lifetime. I was always to afraid to play it myself.
The game is played with various rules depending on whose doing the playing.
The general gist of the game is: a circle is drawn in the dirt; the players take turns flipping an open pocket knife off their arm or balled up fist to make it land in the circle.
I've seen it played where you start with the knife on one knuckle and as you flip the knife and get it to stick you move to the next knuckle. The Foxfire 6 Book shares a version of the game where you keep moving the knife up, starting on your fingertips then moving to your elbows, shoulders, and eventually your head! The angle of the stuck knife dictated how many points you were awarded for getting the knife to stick in the circle.
A few years back when the game was mentioned here on the Blind Pig more than a few readers left comments about mumbly peg.
Michael Yarger: There is a book called Village Life in America by Caroline Cowles Richards that was published in 1908 and tells the story of a young girl growing up in the village of Canandaigua, NY from 1852-1872. In the book she recounts visiting a classmate "After school to-night I went out into Abbie Clark's garden with her and she taught me how to play "mumble te peg." It is fun, but rather dangerous. I am afraid Grandmother won't give me a knife to play with. "
Bob Aufdemberge: We always called it mumble peg, and played it at recess at our one-room country school. It was a different world back then for sure. I don't recall that we used a circle, just got points as mentioned for how the knife stuck. We always flipped it off of the back of the hand, didn't change flipping positions. We had another knife game we called "stick 'em". In that game two boys would face each other about a foot to 18 inches apart. The one who led off would try to stick his knife in the dirt in line with one of the other boy's feet, and if he stuck the knife the second boy would have to move his foot out to touch the knife, then he would try to stick his knife and make the first boy move his foot. This kept up by turns, trying to stick your knife first on one side of the other player and then on the other. The winner was the one who managed to stick his knife far enough out that the other player couldn't reach it with his foot.
Wanda Devers: We played this a lot. And amazingly, no one ever got cut (or put out an eye!!) that I can remember–those pocketknives were kept sharp as a razor. No one can sharpen like Mama & Daddy could.
Ever played mumbly peg?
Tipper
Subscribe for FREE and get a daily dose of Appalachia in your inbox