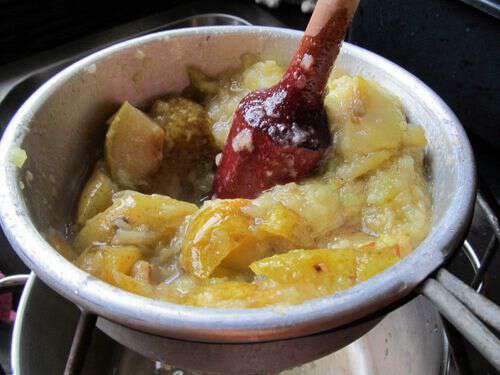 The Blind Pig Family loves applesauce! There's is just something so satisfying about eating applesauce along with supper on a cold winter day. We always run out of applesauce before spring arrives.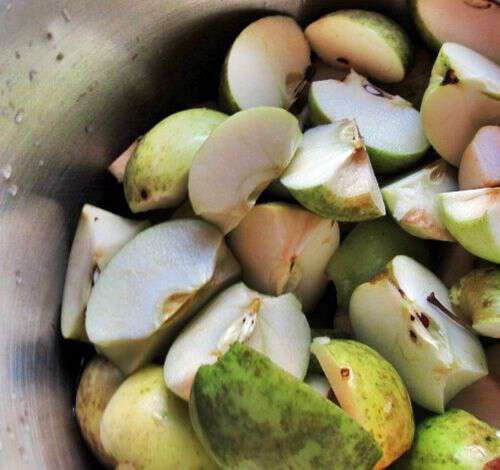 I learned how to make and can applesauce from Granny and from Miss Cindy. Since there are only 2 ingredients (not counting water) I never worry about how many apples I need or how much applesauce I'll end up with. If I've got at least a bucket full of apples I just go for it!
Before you get started give your apples a good wash. I know mine haven't been sprayed with anything but since I leave the peelings on when I make applesauce I want to make sure I get rid of any dust, grit, or bugs.
The Ball Canning Book says to peel your apples before turning them into sauce-but I think Miss Cindy and Granny's way is so much easier! Leaving the peeling on saves time and energy, and it allows you to get every ounce of apple goodness.
I take a small paring knife and cut the blossom end out of the apple and remove the stem. Then I quarter the apple. If I see a bad place or a worm I remove them with my paring knife. I don't worry about the seeds-I leave them.
Place quartered apples in a large sauce pot and enough water that you can see it began to come up around the apples. Cook until apples are soft.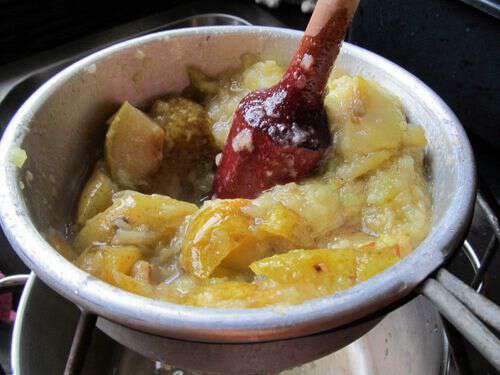 Once apples are cooked, drain and then run them through a ricer or food mill to separate the lovely sauce from the peelings.
Discard peelings-my chickens love them.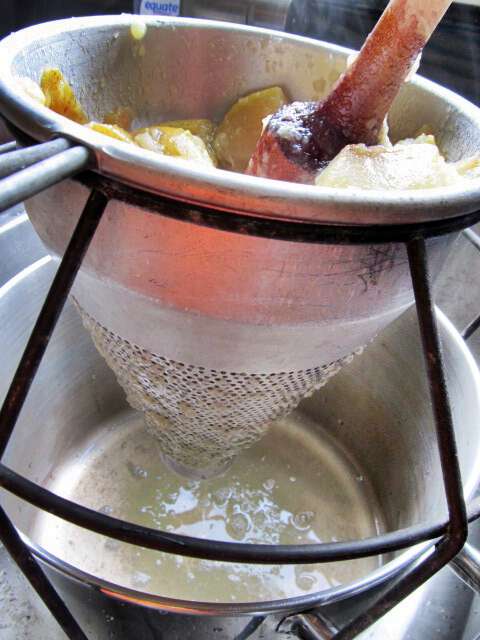 Put applesauce in a large sauce pot. I sit my ricer over my pot so that's one less dish to wash.
Add sugar to taste. I don't add much sugar at this point-because I know I can add it when I open a jar to serve. If you'd like to add cinnamon or other spices this is the place where you would add them to taste.
Bring applesauce to a boil. Make sure your lid is on the pot and make sure you don't wander away to far from the stove. Applesauce pops and squeaks and makes the biggest mess when it begins to boil. It also scorches very quickly.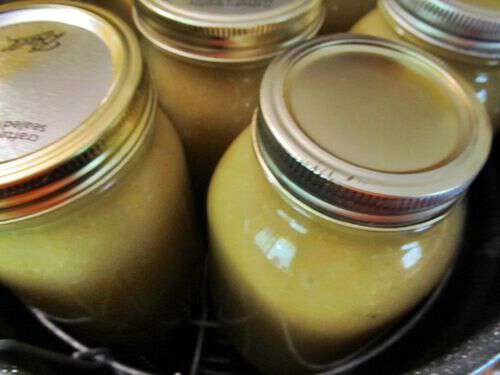 Ladle hot applesauce into sterilized jars and seal. Process jars for 20 minutes in a boiling water bath. Allow processed jars to cool and double check that each jar sealed-if one didn't pop it in the frig and eat it first.
Applesauce freezes very well too, so if you don't feeling like canning, freeze applesauce in serving size portions.
Applesauce is really easy to make and can-its the perfect thing for a beginner to try their hand at.
Tipper