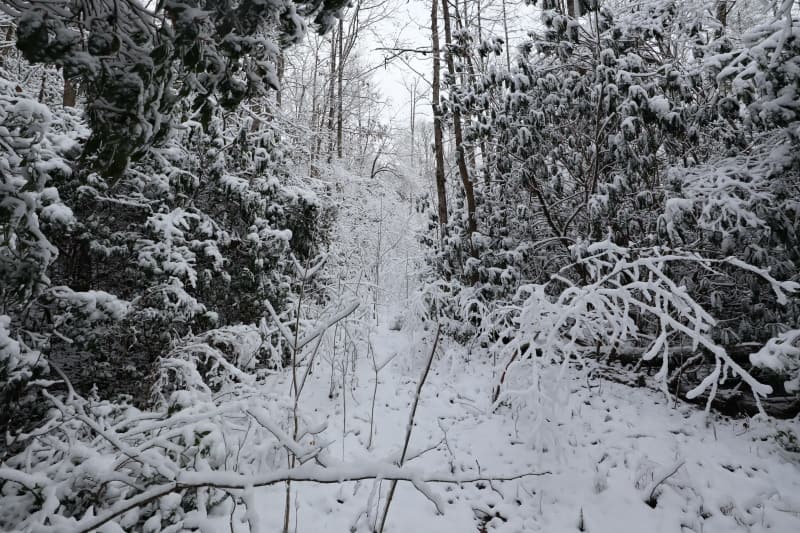 The 1974 Winter Edition of the Foxfire Magazine contains a compilation of newspaper articles written by Harvey Miller. At the time of the magazine's publication Miller's weekly column had been around for sixty years and was till being published in the Tri-County News located in Spruce Pine, North Carolina.
1970
The old-time saying is still going the rounds here that when it comes the first good snow of the season, if you will get out and wade in it for a little bit, you won't never have a cold all winter long. But who here still makes a practice of this I can't get no report on. Although it's the truth away back "yander" I recollect seeing folks both young and old splitting through a purty good snow barefooted, and the boys and men had their britches leg rolled up to knee length. Well the wimmen folks in those days had to hold up their dress tails, too, while they waded through the snow barefooted. As you know, the dress style was so long in the length that the dresses nearly drug the ground every step they took, and a lot of times you could see dress prints in the snow when they waded it about knee deep. Folks back in those early days thought it was real fun to wade the snow, especially the first snow, what they called a warm snow. I imagine that snow is snow anyway the weather may be, and all of it is as cold as ice.
1/22/70
1967
Nelse Whitson, who said that he was 86 years old, told us Monday, the day after Christmas, that it would be a good prosperous crop year the following summer for a snow on the ground Christmas Day meant that it was a good prospect for a bumper yield of crops. Well, we had a white Christmas here—the first one several people said that we had had in seven years. It was really a bad snowy day on Christmas and the snow reached out far away from here.
1/5/67
1963
Here is the report of one year's weather record kept by Donald McCoury of the Byrd Creek section of Pigeon Roost and is for the entire year of 1962. 128 rainy days; 45 storms; 35 snowy days; 58 frosty mornings; 105 foggy mornings and two days of sleet. Mr. McCoury said there is an old saying, "If every morning in August is foggy, there will be 31 snows in the winter." There were only 24 foggy mornings in August of 1962.
1/24/62
---
I've heard about going barefoot in the first snow of the year being good for your health, but I'm not sure I could wade barefooted in knee deep snow 🙂
I'm hoping our snowy Christmas day means my summer garden will be extra productive this year!
Jump over to the Foxfire website and poke around. They are still publishing the magazine and those wonderful Foxfire Books too!
Tipper
Subscribe for FREE and get a daily dose of Appalachia in your inbox