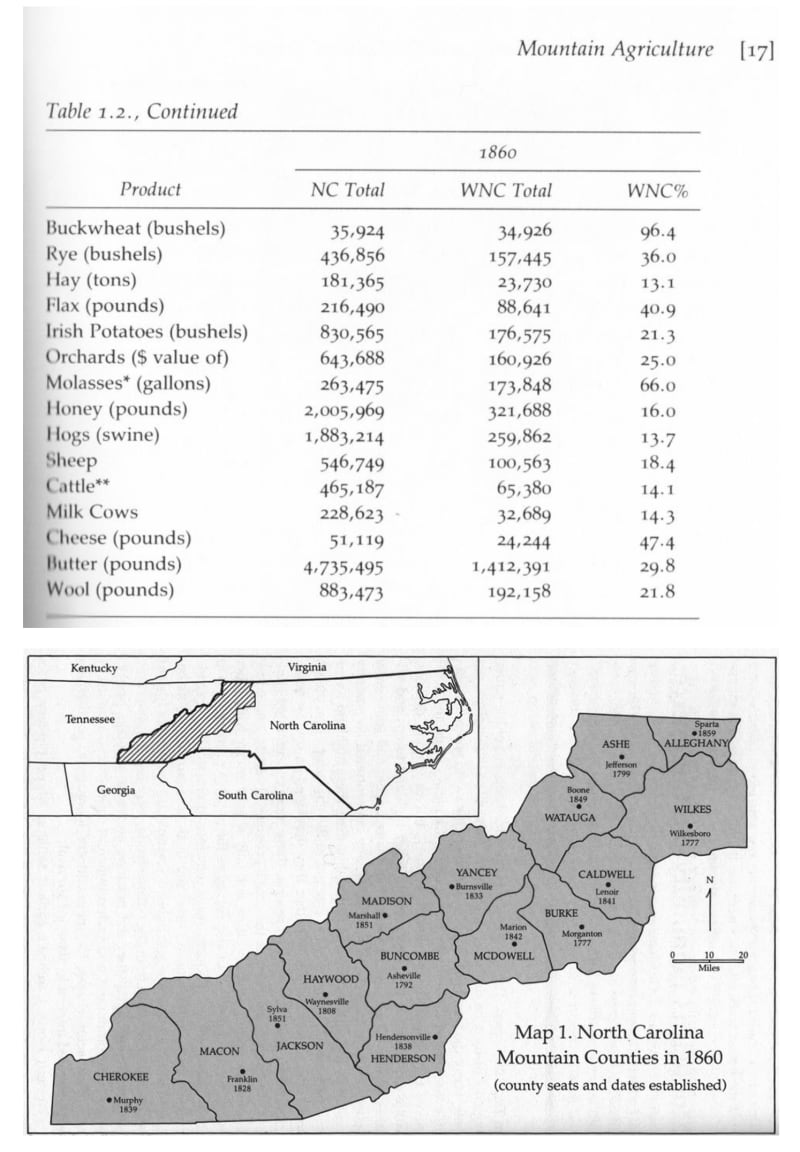 A few weeks back Don Casada sent me an email about buckwheat pancakes. The book he was reading, "Mountain Masters, Slavery and the Sectional Crisis in Western North Carolina" by John Insoce, influenced his decision to travel down the rabbit hole of buckwheat growers in Western North Carolina.
As you can see from the chart above, there was a lot of buckwheat grown in WNC. Don's family had a tradition of eating buckwheat pancakes for one of their weekend suppers when he was a boy so he took special interest in it as an agriculture crop in the area.
The local county agent's office pointed Don to an online source where he found more information about buckwheat.
Here's what he found:
"It turned out that the Pareto Principle was at work. Two counties – Watauga and Ashe – accounted for 52% of the entire state's production of buckwheat. If you added in the two counties of the time on either side of them, Alleghany and Yancey, the four counties combined accounted for 77% of the state's production; their population was 2.5% of that for the entire state. 
Add in Haywood, Buncombe, Madison and Henderson, and a total of the eight counties, with 6.0% of the population accounted for over 91% of the state production.
The more western counties of the time – Jackson, Macon and Cherokee (an area which today would include Clay, Graham and Swain) weren't particularly significant producers of buckwheat.
When it came to sorghum molasses, Buncombe led the state. Next in order were Cherokee, Yancey and Madison. Those four, with 3.7% of the population, accounted for 39% of statewide production."
Don also checked the buckwheat production in Tennessee counties which border NC. He said the results were similar. Most production in TN was also along the Appalachian mountain chain. Five counties in the area accounted for 67% of the state's buckwheat production. As he continued to research he quickly discovered buckwheat isn't a warm weather crop. The production from northern states during the same time period totally blew away what we thought were impressive numbers from the southern Appalachians.
Don's research made me wish I could ask Pap if anyone grew buckwheat when he was a boy. Farmer Teddy grew some at John C. Campbell Folk School this past year as a cover crop—its a pretty plant.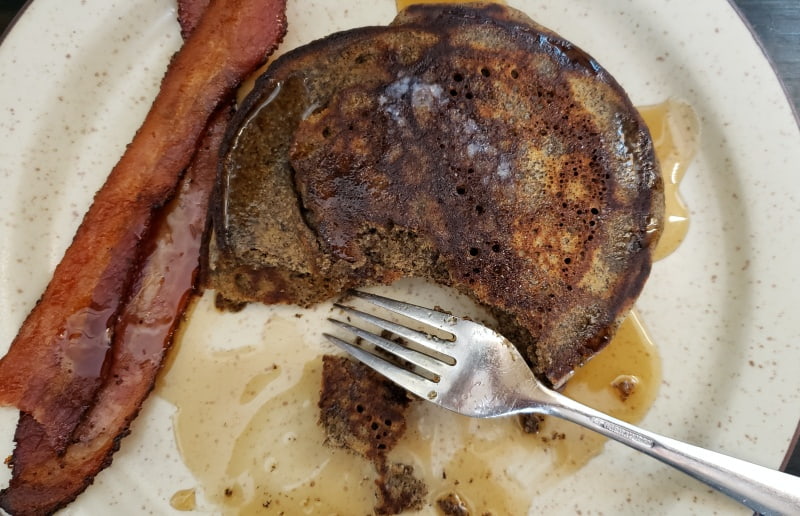 But what all the talk really made me wish was that I could taste those buckwheat pancakes Don had such fond memories of.
Don's brother Jim sent me a bag of buckwheat flour so I got to taste them for myself and they were good!
The first time I made them I used half buckwheat and half flour in my usual pancake batter recipe. The next time I used straight buckwheat and they were still really good. Buckwheat is gluten free so that's a plus for anyone who needs to stay away from gluten.
Have you ever had buckwheat pancakes?
Tipper
Subscribe for FREE and get a daily dose of Appalachia in your inbox