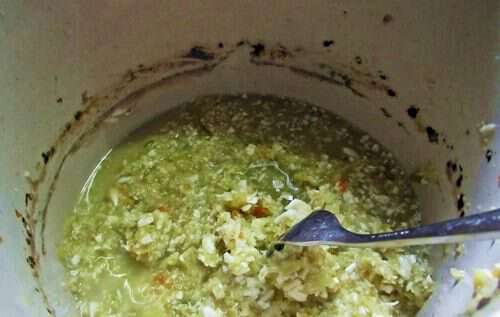 Fermented foods are all the rage right now. Most of us are familiar with fermenting cabbage to make kraut or cucumbers to make pickles, but these days a quick google will tell you how to ferment carrots, radishes, greenbeans and more.
A few years back, Blind Pig reader PinnacleCreek shared a fermented chow chow recipe that's been passed down in her family with me. I've made it several times and it always turns out perfect. I like the recipe because it uses a small amount of vegetables and can easily be kept on my kitchen counter while its working. I also like that the recipe can be changed up depending on what kind of extra vegetables I have on hand. The recipe calls for an equal mixture of vegetables that total 5 pounds, but I always end up with more cabbage somehow and the recipe still works great. The addition of cucumbers, peppers, and green tomatoes give the chow chow a different flavor than kraut.
Here's the recipe by way of PinnacleCreek with some added notes from me.
Grandma Ida's Chow Chow
Tipper, this is my favorite of all time with soup beans and cornbread. This can make the lowly navy bean fit for a king. My Mother always had this with any kind of beans (except green), and it certainly kept the meal from being boring. She learned this from her Mother, so it originates from deep in the hills of Wyoming County, WV. They make a sweet chow chow every year at a local church here, but I never could find anybody who made this crock chow chow just like my grandmother's.
I had to get info from Mom before her memory deteriorated and had to piecemeal some of my own ideas, but the final product is just as I remember. If you try it you may wish to start with just the 5 lbs in case you don't like it or in case it is a bad batch. I have not had a bad batch since I started following the signs and made sure the batch stayed totally submerged. I have found the inserts from crock pots at yard sales work perfectly (they practically give these inserts away and they make wonderful pickling crocks), and a bread plate fits perfectly over the concoction to keep it submerged. I have crocks all over the place in the summer.
You will need:
1) 5 pounds of equal amounts end-of-garden cabbage, green peppers, cucumbers, and green tomatoes. *(As I said above, my vegetable amounts are never equal and it still works out fine)
2) non iodized salt (3 tbs. salt per each 5 lbs. vegetables)
3) non fluoride water
4) hand chopper, crock pot insert, plate to cover….later canning supplies
5) grape leaves (optional)
6) a must is to pickle with the right sign *(We prefer to make any fermented food when the signs are in the Head)
Chop vegetables very fine using hand chopper or homemade chopper from evaporated milk can…rough, but worth the effort. *(I cheat and use a food processor)
Layer into crock pot insert. Sprinkle salt on the layers and mash out juice as you go (I use my very clean fist to mash). When you have this all packed into the crock continue to mash a short while to encourage the juices to come out. You can let it set for a couple of hours and much more of the liquid will be released.
The mix is then covered with freshly washed grape leaves which I tuck in around edges to keep pieces contained. This can then be covered with bread plate which fits to edge and topped with a scrubbed rock, or I like to use water filled plastic quart mayo jars to weigh it down. You want pressure on the mix. (this is strictly my idea as my research shows grape leaves add tannins that keep the mix crisp and works wonderfully as a covering) grape leaves are optional.
There's usually not enough brine so this plate needs to be covered totally with at least an inch of brine (1 tsp non iodized salt per cup of water). Cover with clean tea towel, and I wrap a small bungee cord around it to keep the towel in place and keep lil critters out.
Place where it will be undisturbed, and check every few days to make sure all is well. As it ferments there will be that wonderful odor that is familiar to anyone who has made homemade kraut. Much like Kraut, but the green tomatoes and peppers give it that unique taste. If it ruins the mixture will be soft and have an off odor. Every few days I scoop off and discard the film that forms over the mix–My Mom called it the "mother", and I have never heard anyone else use that term.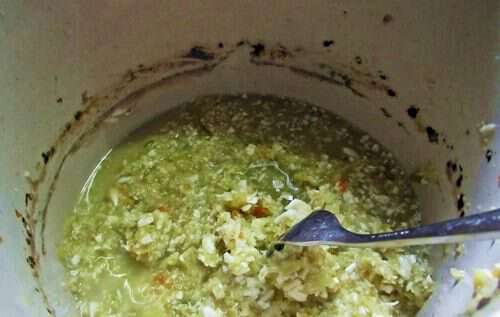 After 14-21 days drain off liquid and bring to hard boil. Pack the chow chow in sterilized pint jars and add boiling brine to 1 inch from top, go around inside edge to remove bubbles, cover with sterile flats and hand tighten rings. Process in water bath 10 minutes. If not enough brine can mix 1 tsp salt per cup of water—hard boil enough to finish filling the pints.
———–
This recipe makes such a small amount that if you're part of the ferment kick that's going around you could easily store it in the frig and skip the processing part.
Tipper
Subscribe for FREE and get a daily dose of Appalachia in your inbox