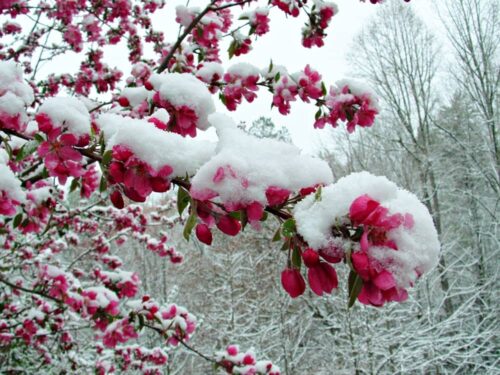 Spring snow 2014
Winter's Springtime Capers written by Ethelene Dyer Jones
Old Man Winter whom we'd bade farewell,
Reluctant so soon to leave
Came sweeping back over hill and dale,
To prance, to dance, to tease.
Heat turned off was turned back on;
Fires stoked and logs ignited;
Warm wraps and winter garb donned
And plants covered and coddled.
"Weather's like this," we say making the best
Of winter blast amidst springtime's beauty;
Try not to freeze, "This, too won't last,"
We go on to our living and duty.
---
Ethelene's poem is fitting for the cold weather headed our way this weekend and my recent video on the little winters of Appalachia.
Last night's video: DON'T Plant Tender Vegetables in Appalachia Until You Know About the 6 Little Winters.
Tipper
Subscribe for FREE and get a daily dose of Appalachia in your inbox