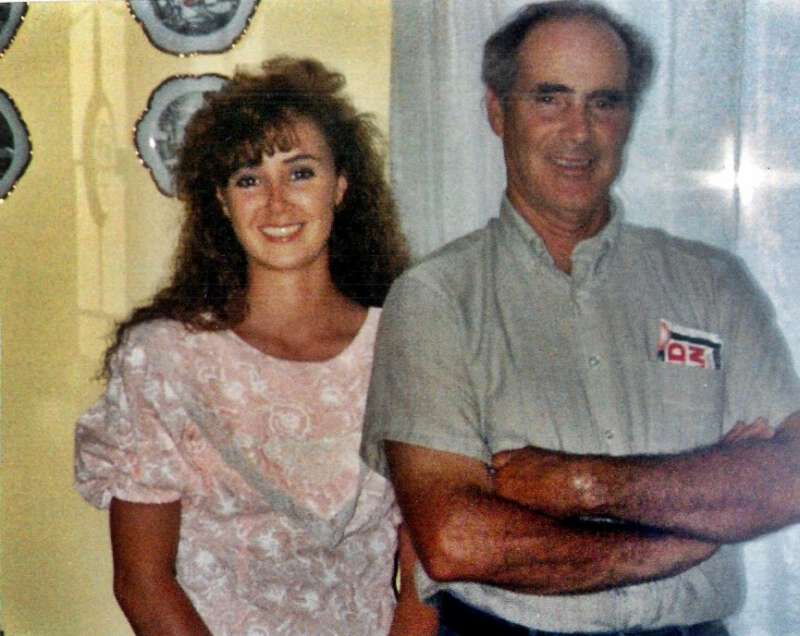 Tipper and Pap 1980 something
spark
B verb (also spark with) Esp of a man; to woo, court; hence sparking = courting. Cf. talk.
1859 Taliaferro Fisher's River 118 I sparked her a little that night, and told her I was a-gwine wiz her to meetin' next Sunday. 1935 Sheppard Cabins in Laurel 172 When he comes and takes her to the church-house and calls on her with presents of candy and Victrola records, they have advanced to the sparkin' stage. 1936 LAMSAS sparking (Madison Co NC, Swain Co NC). 1939 Hall Coll. Cades Cove TN We was small, both of us. They got to deviling us about sparking, you know, and Will says, "Now, boys, that's got to be cut out, deviling them children. They don't know what sparking is." (Aaron Swanninger) 1958 Newton Dialect Vocab spark (Happy Valley TN); spark with (Walland TN, Millers Cove TN). 1963 Edwards Gravel 36 There was some fascination about talking on the phone; and many a good spell of light sparkin was done on that phone in my dad's store. 1963 Medford Mt People 51 While the women never would encroach on the "men's" side, young men, when "sparking," would sometimes venture over to the "women's side" of the church or public meeting-place. 1974 GSMNP-51:13 If I could just get to read that letter, why I'd know how to start. We called it sparking then. 1993 Weaver Scotch-Irish Speech 16 Also, expressions such as "sparking" (dating), "Courting" (dating with serious intent), and "talking" (contemplating marriage), very distinct in meaning in West Virginia, were used interchangeably in the Carolinas.
Dictionary of Smoky Mountain English
——————–
The definition from the Dictionary of Smoky Mountain English reminds me of a memory I wish I would have asked Pap about.
I was probably 13 or 14 when it happened.
The pastor of our church was going to be preaching a revival and several folks in the church decided they'd go over to the other church one night and visit in support of the pastor.
I have no memory of the church's name. It was located way up in the mountains in Suches GA. It seemed like it took forever to get there. I remember the cars in our group lined up going round and round the curves climbing higher all the while.
The church was a really old one that hadn't been modernized over the years. I remember there were school desks sitting down near the front by the pulpit. Looking back I'm not sure if it's because they used that area for a Sunday school class or if that's just all the extra seating they had.
I set in the back row with one of my friends. Right away we scoped out the kids that were our age and one especially attractive young man who put you in the mind of a young Johnny Cash-flipped back black hair and all. Pap always set in the front of the church with the other men no matter if we were at our home church or if we were out visiting somewhere.
The church choir sang in a mighty way, they were really good. As soon as they were finished, the attractive young man came all the way to the back of the church and set down beside me.
After speaking a few words of welcome one of the pastors called for everyone to come to the altar and pray. Once the Amens had been said and folks begin to take to the benches I looked up to see Pap striding back through the church to where I was sitting. With not even a nod Pap took a seat on the other side of the attractive young man.
I was too puzzled to be embarrassed. I knew better than to ever cause trouble in church and besides that we'd barely been there 20 or 30 minutes and I knew I hadn't done anything wrong. As I set there pondering I decided it had to be the attractive young man that caused Pap to sit beside me in church for the first time since I was little enough to sit in his lap.
I meant to ask Pap why he came and set with us, but we were riding with a few other folks and I couldn't ask on the way home and in the way of life I quickly forgot about the handsome young man and Pap's unusual actions. It was sometime after Pap passed away that I remembered visiting the old church. If I had thought of it sooner I'd asked Pap how he knew the boy was trouble when that's the first time he ever laid eyes on him.
When I was growing up I rarely heard anyone talk about sparking or trying to spark. Since this is the month for love, I'll share some common Appalachian terms for dating with you one day next week.
Tipper