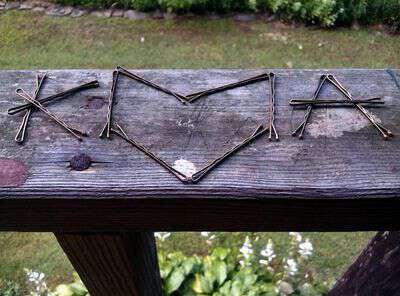 I had a different post to share with you this morning-but I ran into a technical issue. Technology is AMAZING when it works right and really ANNOYING when it doesn't.
Since my plans were interrupted, I decided to show you the hieroglyphics I found on my porch railing the other day. I knew you could use bobby pins to hold your hair back, to pick a lock with, or even to clean your ears out-but who knew you could make an artistic display with them? Apparently Chatter and Chitter knew.
Check back by tomorrow, hopefully my issue will be resolved and I'll share the post that was meant for today.
Tipper